Cervantes ready to lead Spain at home ISDE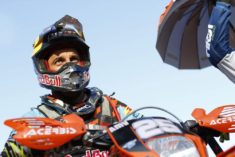 On Tuesday 11th October the FIM International Six Day Enduro (ISDE), the longest running FIM off road motorcycle competition, will begin in Navarra, Spain. For one rider in particular the event will be a truly memorable occasion. Ivan Cervantes – KTM, Spain's most successful international enduro racer with five FIM World titles and one overall ISDE victory – will compete in what will be both his first and last ISDE on home soil.
Competing as a member of Spain's World Trophy team aboard a 450cc KTM, the fact that the 2016 ISDE takes place in Navarra, Spain ensures Ivan's career as a professional enduro racer will come to a celebratory close. Not competing in the 2000 ISDE in Granada (the last time the ISDE was held in Spain) and having announced his retirement from full-time enduro competition only a few weeks ago, Ivan's participation in Navarra will be a special occasion not only for himself personally, but also for Spanish enduro as well as the ISDE, as it says goodbye to one of the great enduro champions of the last decade.
"The ISDE is a very important race for me and especially for the Spanish team," commented Ivan. "Spain has never won the World Trophy team competition, and this year we believe we can fight for the victory. We have a very good team so we will do all we can to win. It's a very special event for us and there will be a lot of support. For me persnally it will be my last ever ISDE."
As Spain's leading enduro racer Ivan is no stranger to success. In 2008, at the ISDE in Serres, Greece, he became the first and so far only Spanish rider to win the ISDE outright. "I've enjoyed the ISDE so much over the years, I have some incredible memories. Winning the event overall in Greece in 2008 was one of the highlights of my career. I was very fortunate to win because many riders had problems. It was a tough race that ended in the best way for me. It was fantastic to make history by becoming the first Spanish rider to win an ISDE overall."
"The ISDE has given me a lot of great memories over the years," added Ivan. "I know I'm not as fast as I used to be, but together with my team mates I believe Spain has a very good chance of fighting for the World Trophy team win. So much can happen during the ISDE, like it did in Serres in 2008. Working together as a team is very important and something the Spanish riders are very good at. I want to enjoy the race, my last Six Days race. It will be a very special event, one that I am very much looking forward to."
Ivan Cervantes – Key Facts
First / Last ISDE on home soil
2008 ISDE Overall winner – Greece
First ever Spanish FIM Enduro World Champion
4 x FIM Enduro World Champion 2005 / 2006 / 2007 2009
1 x FIM Indoor Enduro World Cup Winner 2009
2016 Spanish World Trophy Member
>>>Download for FREE the ISDE 2016 App!<<< APP STORE PLAY STORE