Off-road/Enduro training Marco Elting in September!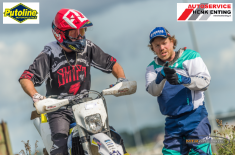 Met het najaar in aantocht barst de 2e helft van het Off-road/Enduro seizoen weer los. Om goed voorbereid aan de start te komen organiseert Marco Elting op: Vrijdag 27 september een Off-road/Enduro trainingsdag in Emmen.
Tijdens deze gevarieerde training komen, door gebruik te maken van het circuit & Enduro park, veel aspecten van het Off-road/Enduro rijden aan bod. Deze dag helpen we iedereen op zijn of haar eigen niveau met tips en tricks op de verschillende locaties op en rond het circuit met oefeningen gericht op het verbeteren van o.a. rij techniek, houding op de motor en obstakels-bedwingen. Ook aan de inwendige mens wordt gedacht met een lekkere lunch tussen de middag
Trainingen vinden plaats op een afgesloten terrein en daardoor zijn crossers die graag een keer het Off-road/Enduro gevoel willen ervaren en Jeugd Enduro rijders ook van harte welkom. 
Wees er snel bij, want voor bovenstaande dag zijn nog enkele plekken vrij!
Voor deelname en meer info: mail Marco Elting via offroadtrainer@hotmail.nl of bel 06 – 15 86 27 10
Graag tot dan!
(Foto: met dank aan MTR fotografie)