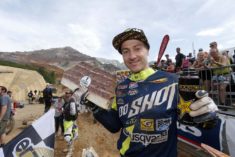 Dominant race-long display sees Graham Jarvis claim Erzberg Hare Scramble victory
Rockstar Energy Husqvarna Factory Racing's Graham Jarvis has claimed victory at the 22nd running of the ErzbergRodeo Hare Scramble. From a front row start Graham was well placed during the early, faster sections of the race. The hugely experienced former event winner then methodically worked his way into the lead with 30 minutes of the race completed.
Once out front and with the event's well-known technical sections ahead of him, he never stopped extending his race lead to eventually reach the finish in a time of two hours and 19 minutes. Jarvis finished more than 33 minutes ahead of runner-up Cody Webb with third placed Alfredo Gomez a further three minutes behind.
Overall, it was a near perfect race for the now 41-year-old British rider. Always excelling when conditions are at their most difficult, Jarvis produced a world-class performance around the Iron Giant. Smooth, calculated and unrelenting, he took control of the race lead at a crucial moment in one of the forestry sections and never looked back. Crossing the finish line over 33 minutes clear of his nearest rival, Jarvis reminded everyone why he is one of the best extreme enduro riders in the world.
Delivering a very impressive ride, Mario Roman secured an impressive fourth overall in the Red Bull Hare Scramble. Focused on avoiding trouble, Roman placed strongly throughout the duration of the 35-kilometre long race. Closing up on Wade Young and Taddy Blazusiak in the final few sections, he set his sights on a top four result. Working hard to scale the final Lazy Noon climb, Roman battled his way past the duo to claim the position in the final few moments of the race.
SuperEnduro World Champion Colton Haaker competed in the ErzbergRodeo for the first time this year. Starting off his weekend on top form, Haaker placed an impressive 11th overall in the Iron Road Prologue to secure a place on the front row of the grid for Sunday's Hare Scramble. Starting strongly, he then crashed on one of the first hill climbs, losing numerous positions. Pushing a little too hard to recover resulted in numerous further crashes and Haaker was unable to complete the race distance in the allotted four hours.
Graham Jarvis: "This feels amazing. Erzberg is a race I had marked out as one I wanted to win this year and I've done that. It was an amazing race – I got a good start and managed to start making my way forward through the pack. In one of the first sections in the woods I found a really good line and managed to get up a technical climb ahead of some of the others. After that I just tried to relax and do what I know I can do through the more technical sections. Everything went well but I knew I had to stay focused. This has been a real team effort."
Mario Roman: "It's been a really tough race, very hard in places but I'm very happy with my fourth position. I'm pleased with how I rode, generally it was ok. That last few sections things were very close between Wade Young, Taddy Blazusiak and myself for fourth. I just found that little bit extra, got up the final Lazy Noon climb in front and secured the position."
Colton Haaker: "I got a good start but then on one of the first climbs I crashed. That set me back a lot of places and from there on that theme would continue. It's been a real eye opener for me doing this. It's definitely something I've not really experienced before. Especially the forestry sections. They were so slippery and gnarly, we just don't really have trees back home in California. But I've enjoyed the experience. I would have loved to finish but it is what it is."
Red Bull Hare Scramble 2016 Results
1. Graham Jarvis (Husqvarna) 02:18:47
2. Cody Webb (KTM) +33:07
3. Alfredo Gomez (KTM) +36:02
4. Mario Roman (Husqvarna) +58:19
5. Billy Bolt (KTM) +01:08:46
6. Wade Young (Sherco) +01:12:28
7. Paul Bolton (KTM) +01:19:35
8. Taddy Blazusiak (KTM) +01:23:08
9. Philipp Scholz (KTM) +01:37:24