EWC looking back: From HOLCOMBE to BOTTREL…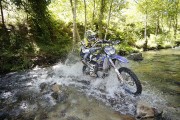 After an exhausted and dusty Iberian tour (Spain – Portugal), back on those crazy two weeks of competition and on the fact you couldn't miss in the EWC paddock…
Not so easy…
We heard and read a lot of things during the days before the Grand Prix AMV Seguros of Spain. "Special Tests were too easy, not ready; there were 90% of asphalt on the 74 kilometers loop…" But after a big job of the organizers, the special tests were "easy to ride" even "nice" for few riders, the 90% of asphalt were in fact only 9% as the FIM Track Inspector Maurizio MICHELUZ underlined during the traditional Friday Morning Jury Meeting. Indeed, numerous riders were all ok to say that, at the end, this Grand Prix hasn't been as easy as it looked with a very tough heat and technical special tests that force them to draw into their reserves… In bonus, the EWC riders offered us a nice suspense in four classes (on six), it didn't happen for numerous years!
Revelation
When we arrived in Jerez de la Frontera, we were waiting for another exciting fight for the Junior leadership between Jamie MCCANNEY (GB – Husqvarna), Giacomo REDONDI (I – Beta) andAlessandro BATTIG (I – Honda). We also doubt that the Portuguese Diogo VENTURA (P – Gas Gas) would join them as he did, but we never think that new Jarno BOANO nugget, Steve HOLCOMBE (GB – Beta), would also come to this party! Brilliant third on Day 1, he gave some worry to his compatriot MCCANNEY during the entire Day 2 before finishing second for just few seconds… Same story in Gouveia (Portugal) where he continued to worry MCCANNEY and REDONDI on Day 1 before signing his very first EWC victory on Sunday! When we take a look to his results, the Beta Boano team and he will maybe regret to not sending him in Chile… But, the Brit from Devonshire is still a young gun (21 years old) and will be a serious title contender next year!
New Generation!
This season, we had a large renewal in the FIM Youth Cup 125… Good bye Davide SORECA (I – Beta), Albin ELOWSON (S – Husqvarna), Jérémy MIROIR (F – Yamaha), Jesper BORJESSON (S – Husqvarna), Matteo BRESOLIN (I – KTM), Adam TOMICZEK (PL – KTM) and WelcomeDavid ABGRALL (F – Yamaha), Jean-Baptiste NICOLOT (F – Yamaha), Valerian DEBAUD (F – Yamaha), Luca GARELLO (F – Yamaha), Sergi CASANY (E – Gas Gas)! With also Josep GARCIA (E – Husqvarna), Luc MALIGES (F – KTM) and Mikael PERSSON (S – Yamaha), the EWC is discovering the next talents! If GARCIA and PERSSON seem to stand out and give us a nice fight for the top step of the podium in each race day, the young French are also in a good way and makes no present for the last step… Names that we should heard about for the next years!
Walk of Fame
AGOSTINI, NIETO, CHECA, ROSSI, LORENZO… Those entire names from the MotoGP are already legendary or on the way to be… What's the common point between these road racing stars and ourIvan CERVANTES (E – KTM)? A star in the "Walk of Fame" of Jerez de la Frontera. Indeed, "Torito" has been inducted in the closed circle of riders having this star in the street of the Motorcycling World Capital… Only off-road rider among the road racing legends, CERVANTES was very emotional during the entire ceremony and said he is "very proud to be next to starts like this and to represent Enduro!"
Top organizer!
Special Tests far from each other for only a hundredth of meters, a paddock also very near placed in the very sympathetic "Senhora dos Verdes" natural park… Everything was gathered to enjoy a good weekend of World racing! That's what the Natureza Eventos, organizer of the Grand Prix Polisportof Portugal, manage to do last weekend on the doors of the nice town of Gouveia! Spectators could enjoy the three special tests that, with only few meters between them, were very very different! The riders, but also the FIM and ABC Communication, wanted to underline the "top organization" that can make it one of the favorite for the honorific title of Best Organizer of the Year!
My memories…
Since last year, the experts are giving to Jonathan BARRAGAN (E – Gas Gas) the image of the competitive rider only on Sunday when the lines are already made… Unfortunately for the Spanish, it has been confirmed in Chile (DNF/3) and in Spain (6/3). So we wanted to know the real explanation of this "problem" and it is his team manager, Sergi DURAN that gave us the answer… "The problem with Jonathan is that he will walk and recognize the special test 5 or 6 times during the week but he never remembers them during the first race day. Then on Sunday, everything is clear in his mind and it's the true BARRAGAN racing!" So, it is a problem of memory that prevents BARRAGAN to perform on Saturday. A thing he absolutely needs to work on if he wants to be one day a real contender for the title.
Maxxis is coming
Title sponsor of the Enduro World Championship since 2004, Maxxis Tyres has never putted a permanent tire in the special tests of the EWC. And it's now done thanks to the KE MotoRace team and its team manager Giancarlo COMOTTI! Indeed, with the support of Italian importer Motocross Marketing, the only Kawasaki team in the paddock is equipped with Maxxis since the start of the season and it seems that the performances are good. Indeed, Simone ALBERGONI (I – Kawasaki), the top rider of the team, has good results since the start of the season and is 7th overall in E1, only 7 points behind the 4th rank. The Italian wasn't so far to sign a first podium result this season on Day 1 in Portugal. Thanks to KE MotoRace, Maxxis is trying to come in the EWC while waiting some podiums…
Tasting
Thanks to the Portuguese organizer, some riders were invited on Friday afternoon to a local wine and cheese tasting. Ivan CERVANTES, Aigar LEOK (EST – TM), Mathias BELLINO (F – Husqvarna),Simone ALBERGONI, and the Portugueses Diogo VENTURA (Gas Gas) and Gonçalo REIS (KTM)where present, joking that they were hoping it would help them to be faster during the KTM Super Test. And it has been the case for BELLINO and ALBERGONI… A great and simple moment reminiscent of the true values of Enduro…
Two more!
Few days before the Grand Prix of Spain, we announced you a list of TV broadcasters… But we didn't stop our research and we are now very proud to welcome Fox Sports Australia and NC+ (Poland) as our two new EWC broadcasters. The Australian fans will have the opportunity to follow the performances of there "animal" Matthew PHILLIPS (KTM) while Polish can enjoy each apparitions of their star Taddy BLAZUSIAK (KTM) as well as follow the improvement of their young prospect Adam TOMICZEK (KTM)… The EWC broadcasting is getting bigger each day!
Brazilian Connection
As last year, Romulo BOTTREL (BRA – Honda) came to the Iberian tour as a preparation for the next Brazilian Championship! Very smiling and simple, the young Brazilian brought a bit of exotic to the EWC and also scored some valuable points during the four race days. Ride of the Honda ZANOL team, we had also the opportunity to see Felipe ZANOL, ex Rallye star, who, despite his accident few years ago, is always keep smiling! We really to see this very sympathetic duo back on the EWC this season and the next seasons also!