FIM breaks new ground with Women's Enduro Training Camp!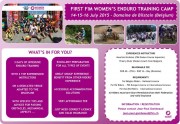 The FIM and its Women in Motorcycling Commission are delighted to announce a new initiative that will see the first ever FIM Women's Enduro Training Camp take place in Bilstain, Belgium on 14-15-16 July 2015, with the support of the Belgian national motorcycling federation (FMB). The three-day training camp has been planned to coincide with the penultimate round of the 2015 FIM Women's Enduro World Cup to be held in Belgium on 12 July.

Using the extensive facilities and terrain at the famous Bilstain venue, women riders of all levels, from beginners to those with some racing experience, will be able to benefit from expert tuition by FIM Enduro Course Inspector Maurizio Micheluz, who will be supported by local Belgian coach Thierry Klutz.
The training course will consist of two full days of activities (9.00 to 18.00) and a third day starting at 09.00 and ending at 15.00. The course will cover a wide range of skills in order to prepare the participants for all types of event and terrain, such as extreme tests, SuperEnduro and the International Six Days Enduro. It will also include training in mechanical tasks such as changing tyres, etc.
FIM Enduro Commission Director Jean-Guillaume Meiller said of this exciting new venture: "The Enduro Commission welcomes this training camp geared exclusively to female riders. Women are now an important part of the Enduro community. We often see them anxious at the start of the race only to return later in the day wearing big smiles as they step on to the podium having shown great courage and tenacity. This is very gratifying for us all."
"During the planned three day training camp, which will be conducted in a convivial atmosphere, the female riders will have a perfect opportunity to share their experiences, to improve their skills and to learn that nothing is impossible, even in Enduro! We would like to thank the Belgian national federation for their huge support in hosting this event and for making every effort to ensure that the girls will leave with an overriding desire to return again as soon as possible."
Riders should contact Jean-Paul Gombeaud (jean-paul.gombeaud@fim.ch) to enter this event. National federations will be required to send the relevant start permissions and copies of licence/confirmation of the insurances. Further details about the training camp are as follows:
Place: Domaine de Bilstain, www.rdmcbilstain.be
Date: 14-15-16 July
Day 1 (14/07/15): 9.00 – 18H00
Day 2 (15/07/15): 9.00 – 18H00
Day 3 (16/07/15): 9.00 – 15H00
Fees: Access to Bilstain 16€/per rider/day to be paid to the "domaine Bilstain", 60€ /per rider to be paid to FIM on site.
Proposed accommodation, to be paid by each rider: Hôtel Le Midi – Rue du Midi 9 – 4800 Verviers (Petit-Rechain) Belgique Tel. +32(0)87-32 17 50 – Fax +32(0)87-32 17 59 info@hotellemidi.be http://www.hotellemidi.be Prices: single 57€ with breakfast, 69€ double with breakfast Gite/Guesthouse or flats, Au Domaine de Bilstain. Please refer to the conditions on the website. Breakfast from 5€/per person per night
Licences:
All riders must have a national licence to participate if the camp is taking place in their own country.
The rider must have a Continental licence if the camp is taking place in her continent. If not, the rider must have an FIM international licence of any of the disciplines.
The rider must receive the authorisation from her national federation stating the IMN number of the camp.
The rider must have valid insurance in case of injury (included in the license or not)