2017 FIM ISDE France: Day Six – France claim victory in World and Junior Trophy classes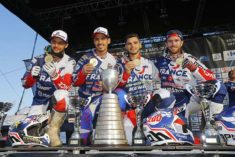 France are the 2017 FIM World Trophy team champions, putting the finishing touches to their week-long dominance of the blue-ribbon class at the 2017 FIM International Six Days Enduro (ISDE) in Brive, France.
With Jeremy Tarroux – Sherco, Loic Larrieu – Yamaha, Christophe Nambotin – KTM and Christophe Charlier – Husqvarna all successfully making it through the final day motocross races without problems, France claimed an eventual six-minute and fourteen-second margin of victory, helped in part by strong final moto performances from Larrieu and Charlier. Despite riding with broken bones in his right hand, Christophe Nambotin – KTM delivered one of the most hard-fought performances of the event, ensuring France won on home soil.
Not to be out done by their senior class team-mates, France's FIM Junior World Trophy team also claimed victory, finishing on top of a thrilling two-nation fight to the very end of the final day of competition against Italy. Collectively Jeremy Miroir – Husqvarna, Hugo Blanjoue – Yamaha and Anthony Geslin – Beta placed fifteen seconds ahead of Italy with the USA rounding out the top three. In the Woman's World Trophy competition Australia also put the finishing touches to a near faultless week to claim a fifth consecutive class win.
Australia were the World Trophy team winners on the sixth and final day of the 92nd running of the FIM ISDE. Finishing in a collective time of forty-three minutes and twenty-seven seconds Australia placed thirty-two seconds ahead of Finland, who were helped by solid performances by Eero Remes – TM and Matti Seistola – KTM. France placed third ahead of Great Britain and Sweden. But in finishing third France did everything they needed to do to secure the World Trophy class victory ahead of Australia, Finland, Portugal, Great Britain, Sweden, The Netherlands, Brazil, Norway and Switzerland.
"This is such a great feeling," commented France World Trophy team rider Christophe Nambotin. "To win the World Trophy team competition here in France is amazing, especially after the final few days I've had. I knew I wouldn't be able to do anything more than just ride around because of my injured hand, but thankfully the rest of the team rode amazingly and we did what we set out to do. For our Junior World trophy team to also win, it's the perfect end to a great event for us."
Serving up one of the closest ever FIM Junior World Trophy team final results, Italy went on the offensive during their final day motocross races in the hope of moving ahead of France and taking the class win. Topping the sixth day by six seconds, in finishing ahead of the USA and France they stepped closer to the top of the Junior Trophy results. But it was not enough. Doing just enough to remain out front, France eventually topped the class by a slender fifteen seconds, much to the delight of the thousands of spectators who turned out to enjoy the final day of competition. With Italy claiming second, the USA rounded out the podium. Great Britain placed fourth with Spain, Chile, Mexico, Czech Republic, Germany and Sweden rounding out the top ten.
Bringing their ISDE participation to a close in the best possible way, team USA topped the FIM Women's World Trophy results on the sixth and final day, placing thirteen seconds ahead of Australia with Canada, Sweden and France rounding out the top five for the day. But it was Australia, as it has been time and time again in recent years, who topped the Women's World Trophy classification. With Jess Gardiner – Yamaha, Jemma Wilson – Yamaha and Tayla Jones – Husqvarna putting their experience to good use, they collectively claimed a six-minute and forty-six second margin of overall victory. The USA, with all three riders competing in their first ISDE, claimed a well-deserved runner-up result with France third, ahead of Sweden, Italy, Canada, Portugal, Slovakia and Spain.
In the Club team competition Italy took a dominant win, finishing more than eight minutes ahead of Wales with SRT Offroad third. Team KTM 2 were the eventual winners of the Manufacturer's award as Kailub Russell – KTM, Taylor Robert – KTM and Daniel Milner – KTM placed close to three minutes ahead of KTM 1 with KTM 3, TM Racing, Beta Boano 1 and Husqvarna 2 rounding out the top 6. Pavia Senior were the winners of the Motorex Challenge, placing ahead of KBS UAMK Team Unhost and Pavia Junior. Sylvain Fournier was the winner of the Michelin Challenge.
Putting in one of the stand out performances of the final motocross races, Josep Garcia – KTM worked his way to the front of the Enduro 1 class final moto in style, going on to claim victory ahead of the USA's Ryan Sipes – Husqvarna and Eero Remes – TM. In addition, the Spaniard also topped the Enduro 1 class overall results, finishing ahead of Ryan Sipes – Husqvarna and Davide Guarneri – Honda. The highest Junior World Trophy team rider in the final E1 standings was Italy's Davide Soreca – Honda.
In the Enduro 2 class it looked for much of the final motocross race as if Loic Larrieu – Yamaha would claim a start-to-finished win, but a mistake on the final corner of the race handed victory to Nathan Watson – KTM, who for much of the race seemed destined to finish third. With Watson securing the win, Christophe Charlier – Husqvarna placed second with Alex Salvini – Honda third. Despite his final moto slip-up, Loic Larrieu – Yamaha topped the final E2 standings by one-and-a-half minutes from Australia's Daniel Milner – KTM and Alex Salvini – Beta. The highest placed Junior World Trophy class rider in the final E2 standings was Albin Elowson – Husqvarna in fourth.
Leading home a KTM one-two-three at the end of the final Enduro 3 motocross race, Spain's Jaume Betriu claimed the win ahead of the USA's Taylor Robert with Finland's Matti Seistola – the early pace setter – third. But it was Taylor Robert – KTM who topped the E3 category results, placing an eventual one-minute and forty-seven seconds ahead of Betriu with Australia's Daniel Sanders – KTM third and Matti Seistola – KTM, Matthew Phillips – Sherco and Ruy Barbosa – Husqvarna rounding out the top six. Barbosa was the highest placed E3 class Junior World Trophy rider.
With this year's ISDE now closed, the focus now shift's to the next edition to be hosted in Chile in October 2018