Hier vindt u de informele scratch klassementen van het ONK Enduro vanaf 1999 en (onder aan de pagina) de vorige winnaars en de toelichting op de puntentelling:
 Winnaars: Inters                  Nationalen/veteranen
  2021     Officieel KNMV scratch klassement
  2020     Geen klassement
  2019     Lucas Dolfing           Jarno Zandbergen
  2018     Lucas Dolfing           Luuk Oud
  2017     Thierry Pittens         Dennis van de Brug
  2016     Wesley Pittens          Dominique Tijhuis Trutmans
  2015     Hans Vogels             Daan Bruijsten
  2014     Hans Vogels             Thierry Pittens
  2013     Mark Wassink            Kevin Dijk
  2012     Hans Vogels             Johnny Bosmans
  2011     Hans Vogels             Bas Klein Haneveld
  2010     Hans Vogels             DerkJan Kram
  2009     Mark Wassink            Ismo ten Velde
  2008     Hans Vogels             Mark Smits
  2007     Hans Vogels             Arjan van de Veld
  2006     Hans Vogels             Hans Polsvoort
  2005     Remy van Rees           Rick Kock
  2004     Erik Davids             Ed Wigman
  2003     Tom Hemmelder           Hilco Huisjes
  2002     Tom Hemmelder           John Peeters
  2001     Pedro Tragter           Harry Walhof
  2000     Patrick Isfordink       Gerben Vruggink
  1999     Patrick Isfordink       Alex Peters
Achtergrond. Het scratch klassement bestaat sinds 1999 en is geïnspireerd door de vele (vaak steeds mooiere) verhalen die na afloop van een enduro door deelnemers aan elkaar worden verteld. Daarbij wordt naast het bespreken van de problemen op de route, veelal aan de hand van de tijden in de proeven elkaars relatieve 'sterkte' vergeleken.
Dit zijn echter momentopnamen per dag en daar het bij enduro nogal eens kan verkeren, de ene keer zit het tegen de andere keer zit het mee, is het in ieder geval aardig om inzicht te hebben in het totaalbeeld over alle klassen. Er wordt onderscheid gemaakt in een inters en nationalen/veteranen klassement.
Puntentelling. (gewijzigd m.i.v. 2014). Uitgangspunt vormt het tijdens een bepaalde enduro wedstrijd door een rijder behaalde aantal (straf)seconden, de z.g. totaalscore. Vervolgens worden de totaalscores per wedstrijd van respectievelijk alle nationale en alle inters in separate tabellen oplopend gesorteerd, waarna het navolgende puntensysteem is gehanteerd:
Inters: 100, 85, 75, 67, 60, 54, 49, 45, 42, 40 (plaats 10). Vanaf plaats 11 steeds een punt minder. Plaats 49 en lager krijgt 1 punt.
Nationalen: 200, 175, 155, 140, 130, 122, 116, 112 (plaats 10) en dan steeds 2 punten minder tot plaats 20 die 88 punten oplevert. Vanaf plaats 21 steeds een punt minder. Plaats 107 en lager krijgt 1 punt.
De grotere deelnemersaantallen bij de nationalen verklaren het verschil in puntentoekenning.
Daar bij de KNMV alles telt, hier dus ook. Bij tussentijdse wijziging van klasse blijven de punten behouden, tenzij men van de nationalen naar de inters wisselt of omgekeerd. Als er voor de inters een  EK/WK of Zesdaagse gelijktijdig met een ONK evenement plaats vindt en er starten Nederlandse deelnemers bij dat internationale evenement, dan wordt vanaf 2014 het KNMV reglement gevolgd inzake schrapresultaten.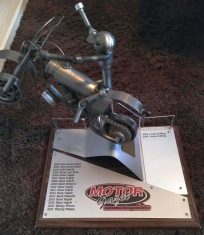 Prijzen. Dit is geen officieel door de KNMV ondersteund klassement, het wordt echter wel gedoogd. Voor de inters wordt sinds 2002 de Motorgazet AP wisselbokaal uitgereikt. Deze wisselbokaal is niet te winnen, ook niet na 100 keer achtereen, omdat net als bij de Trophee des Nations het een hulde is aan de allersnelsten. En die willen we graag verzamelen op deze bokaal door elk jaar de winnaar erop te vermelden.
Voor de nationalen/veteranen is er sinds 2004 jaarlijks een Twin Air bokaal. Tevens biedt Twin Air de winnaars van zowel het inters als het nationalen/veteranen scratch klassement een jaar lang gratis Twin Air gefilterde lucht aan, dus gratis filters, olie e.d.
Alex Peters
Uw evt. reacties gaarne naar:  Peters@DeNop.isonzeclub.nl