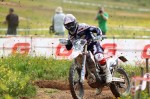 After a month and a half of rest, giving riders the opportunity to race in different national championship events, the Maxxis FIM Enduro World Championship is back with the Grand Prix Scorpion Exo of Italy.
Now in the second half of the championship the GP Scorpion Exo of Italy, takes place in the picturesque medieval town ofCastiglion Fiorentino in Tuscany, with the event marking the start of the second half of the 2012 EWC series.
An experimented and dynamic Moto Club!
For the first time of its history, the Moto Club Castiglion Fiorentino "Fabrizio MEONI" has received the honour, via theFederation International of Motorcyclist (FIM), of organizing this transalpine round of the championship. From its side, theFederazione Motociclista Italiana (FMI) is a regular of the EWC and always assists with the organization of memorable EWC races in Italy. The Moto Club Castiglion Fiorentino "Fabrizio MEONI", chaired by Angiolo BARBAGLI, has organized 118 events including numerous rounds of the Assoluti d'Italia – the elite Italian Enduro Championship – as well as a round of the European Enduro Championship and some Supermoto races. The Moto Club of the late Fabrizio MEONI is well-experienced and dynamic.
The Moto Club Castiglion Fiorentino "Fabrizio MEONI", assisted by Gio SALA (Race Inspector), has prepared a track of 55 kilometres, which will be ridden four times each day during the two race days. Each lap will feature two Time Checks. The paddock will be situated in the heart of the medieval city, on the Piazzale Garibaldi. The Enduro Test, 6 kilometres in length, will be located in Fonte Partini where the monument in memory of Fabrizio MEONI can be seen. For its part, the Xtreme Test(2kms) will be placed in la Foce while the Cross Test will be on the gates of Todiolo and will be 6 kilometres in length. The KTM Super Test on Friday, June 29th will take pla ce on the foot of Castiglion Fiorentino.
Castiglion Fiorentino is situated in the province of Arezzo in Tuscany, and separates the Valdichiana from the Valtiberina. This wonderful medieval town, classified as an UNESCO world heritage site, has more than 13000 inhabitants covering an area of 113 kms2. Its historical centre offers more than 12 churches, including San Agostino from the 13th century, but also a medieval dungeon and the Pretoria Palace. The spectacular Castello di Montecchio is only a few kilometres from the town. Castiglion Fiorentino is situated only 18 kilometres from Arezzo, 100 kilometres South from Firenze and 230 kilometres north from the Italian capital Roma. Numerous medieval festivals are organized all around the year on the Piazzale Garibaldi, where the EWC paddock will be situated. Finally, the region is well-known for its wineries and its olives and Castiglion Fiorentino is no exception offering excellent wines in one of Tuscany most beautiful settings.

Castiglion Fiorentino
Double or nothing!
After his remarkable Iberian tour, Pierre-Alexandre RENET (F – Husaberg) will arrive in Tuscany as the E2 leader, looking to extend his championship advantage. His compatriot and friend,Johnny AUBERT (F – KTM), who is back on form following a tough start to the championship, will strive to continue his improved results while hoping to be able to take the fight for victory to the Husaberg rider. Cristobal GUERRERO (E – KTM)and Juha SALMINEN (SF – HVA) will be looking for nothing other than race winning success as will Ivan CERVANTES (E – Gas Gas) who, after a disappointing Spain/Portugal tour will be committed to getting back on the podium. The big Surprise of the first part of the season, Jeremy TARROUX (F – KTM), will be looking to again show himself as a worthy podium candidate following his two top three result s in Munitibar and Torres Vedras. Fabio MOSSINI (I – KTM), Deny PHILIPPAERTS (I – BETA) and Oscar BALLETTI (I – Beta) will be driven by the enthusiasm of their home crowd. Finally, Luis CORREIA (P – Yam) and Jordan ROSE (GB – TM) will continue learning during their first EWC seasons, and may mix up the results. To note,Alex SALVINI (I – HVA) will be absent as he will participate in the X-Games Endurocross event in the States.
In Enduro 3, the main question is who can stop Christophe NAMBOTIN (F – KTM)? Since the start of the season the French rider has dominated the class proving himself to be head and the shoulders above his rivals. Christophe will be keen to continue his unbeaten run. But Joakim LJUNGGREN (S – Husaberg) and Aigar LEOK (I – TM) are looking to secure victory, as they battle to be the first to beat the KTM rider. David KNIGHT (GB – KTM), after a month and a half of rest, should come back with new motivation and will do all he can to stop NAMBOTIN. Oriol MENA (E – Husaberg) will look to climb on the podium for the third time this season while Sebastien GUILLAUME (F – Gas Gas) will want to confirm h is encouraging return to racing. Marko TARKKALA (SF – Beta) must absolutely be looking to give the Italian Beta company their first, long awaited, E3 class podium. It would be inappropriate to forget Marcus KEHR (D – KTM) and Christophe ROBERT (CH – Husaberg) who have made a very encouraging start to their seasons. Special mention for Andrea BELOTTI (I – KTM) and Manuel MONNI (I – KTM) who will perform in front of their home crowd and be more motivated than ever.
Despite his mechanic troubles during the first day in Portugal, Antoine MEO (F – KTM) continues to dominate in Enduro 1. 31 points ahead of his nearest rival Rodrig THAIN (F – HM Honda), the Frenchman will undoubtedly be looking to extend his championship lead. Rodrig THAIN earned his first victory in Portugal and there's no doubt he'll also be looking for more success. Eero REMES (SF – KTM) has benefited from the injuries of Simone ALBERGONI (I – HM Honda) and Marc BOURGEOIS (F – Yam) to take the 3rd place in the provisional rankings, but the Finn wants to prove that he can do better. Matti SEISTOLA (SF – HVA) will confirm his return to form in Portugal while the showman Marc BOURGEOIS should be back from injury to spice things up. The Bordone Ferrari rider Tho mas OLDRATI (I – KTM) and Simone ALBERGONI (I – HM Honda), who's back from injury, will be racing at home and will have a big advantage – the public will have eyes only for its local stars.
Who can stop BELLINO?
In Enduro Junior, French rider Mathias BELLINO (Husaberg), fresh from his perfect Iberian tour (4 wins out of 4) will arrive inCastiglion Fiorentino aiming to again prove that he is still the best youngster this season. But the Italians, Jonathan MANZI (KTM), Edoardo D'AMBROSIO (KTM) and Rudi MORONI (KTM)who will be at home will not want to be upstaged easily whileVictor GUERRERO (E – KTM), Kevin BENAVIDES (ARG – KTM)and Mario ROMAN (E – KTM) will also do their best in the hope of not being outdone by the spectacular BELLINO. In FIM Youth Cup 125cc, the local rider Giacomo REDONDI (I – KTM), who appears headed for the title, seeks to dominate the competition in Tuscany, while Luis OLIVEIRA (P – Yam) andGuido CONFORTI (I – Yam) will seek a first victory.
Finally, in the Women class, Ludivine PUY (F – Gas Gas), will celebrate her 30th birthday on Saturday, but won't be taking things easy in any way. She'll have her work cut out trying to finish ahead of Laïa SANZ (E – Gas Gas), but that's exactly what she'll have to do if she wants to take back valuable points in the title race. With only 6 points between the two riders everything is to play for. For third place, we will see another intense duel between the two French riders Blandine DUFRENE (Husaberg) and Audrey ROSSAT (KTM). The Australians Jemma WILSON (Honda) and Jessica GARDINER (Yam) will continue their improvement while Juliette BERREZ (F – TM) has had to withdraw from this GP because of a painful wrist injury while Samantha TICHET (F – HVA) will be back.< br /> This Grand Prix Scorpion Exo of Italy, presented by Acerbis, is an eagerly awaited event in a region that is passionate about motorsports and that has already staged many National and European events. You can be sure that the experienced Moto Club Castiglion Fiorentino "Fabrizio MEONI" will mix all the ingredients to provide the thousands of spectators expected an Italian event to remember.  Let us not forget also that the Slovenian stunt rider Rok BAGOROS (KTM) will be present on Saturday, as well as the election of Miss Enduro that will be held on Friday evening after the KTM Super Test!