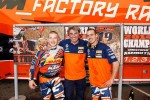 Matt Phillips Crowned Enduro 3 World Champion
The final day of racing at the GP AMV of France brought to close a thrilling season of the 2014 Maxxis FIM Enduro World Championship with the crowing of Enduro 3 World Champion Matt PHILLIPS. Laia SANZ secured her third Women's title while Davide SORECA became the new 125 Youth Cup champion in Brioude, France.
Creating his own piece of history on day two in Brioude, KTM mounted Phillips' E3 title resulted in him becoming the first rider to win a junior and senior championship back to back. Helped in part by his 14-point advantage over closest rival Ivan CERVANTES, PHILLIPS' third place was more than enough to secure the championship. "I'm lost for words – it's an incredible feeling to be world champion," told PHILLIPS. "To win a championship for my first time in the senior ranks is more than I ever expected. All season Ivan and myself have fought hard, it's been a great battle and I'm delighted to have won."
In the Enduro 1 ranks, Christophe NAMBOTIN (F-KTM) picked up from where he left off on day one by winning. "I had no problems today," said NAMBOTIN. "I felt strong all day and just enjoyed it all. It's great to end the series with another victory." Making it two podium results on the bounce in France, Sherco's Jeremy TARROUX (F) placed as runner-up to NAMBOTIN. Having missed out on a top three result on day one, Yamaha's Marc BOURGEOIS (F) finished third. Eero REMES (FIN-TM) and Jaume BETRIU (S-Husqvarna) completed the top five.
There was no change at the head of the Enduro 2 class with Husqvarna's Pela RENET (F) claiming his eighth win of the year. "Today has been a fantastic end to a perfect season," remarked RENET. "It's amazing to win both days in France." Unable to make any inroads to RENET, Italy's Alex SALVINI (Honda) had to be content with second position. Delivering a determined ride following his retirement on day one, France's Johnny AUBERT (Beta) made it onto the podium in third. Newcomer to the EWC in France, Yamaha mounted Gregory ARANDA (F) delivered an impressive ride to place fourth. Although not repeating his podium result from day one, France's Romain DUMONTIER (Yamaha) carded yet another solid top five result with fifth.
With the E3 title still up for grabs, CERVANTESfought hard to turn his championship winning fortunes around. Needing to win, he did exactly that but with PHILLIPS chasing him home for third it just wasn't enough for the Spaniard to bag his fifth world crown. "I gave it my best shot but it just wasn't to be," said CERVANTES. "It's been a hard year with many highs and lows. I'm just happy to have ended it with a victory." Returning to the podium for the first time since the GP of Sweden, Sherco's Matti SEISTOLA (FIN) finished second. Knowing a top ten result would easily secure him the world championship PHILLIPS placed his KTM in third position to take the title. Aigar LEOK (EST-TM) and Fabien PLANET (F-Sherco) rounded out the top five.
Proving again to be the fastest junior rider at the GP of France, Husqvarna's Loic LARRIEU (F)recorded his second Enduro Junior victory of the weekend. With the title secured on day one, Great Britain's Daniel MCCANNEY (Beta) followed Larrieu home for second with Giacomo REDONDI (I-Beta) claiming the third step of the podium. Carding another top five result Oliver NELSON (SWE-KTM) was fourth while Eloi SALSENCH (S-KTM) was fifth.
Carding his first victory of the series, Italy's Matteo BRESOLIN (I-KTM) ended 2014 on a high with the 125 Youth Cup win. Behind him the battle for championship honours was between Davide SORECA (I-Yamaha) and Sweden's Albin ELOWSON (Husqvarna). Despite placing as the runner-up, ELOWSON missed out on the title by four points to SORECA. "I'm so, so happy," told an emotional SORECA. "To be a world champion is an amazing feeling."
Recording her third enduro crown, Laia SANZ (S-Honda) took another victory in the Women's class to win the title. "This year has not been so easy but I'm really happy to have taken my third championship," said SANZ. With SANZ winning, Jane DANIELS (GB-Husqvarna) placed second and Jessica GARDINER (AUS-Sherco) took third.