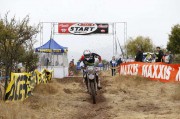 Three weeks after a very successful Grand Prix Acerbis of Chile, the EWC is arrives in Europe. TheGrand Prix AMV Seguros of Spain is the second of 2015's seven events. It will be hosted in the city of Jerez de la Frontera, with the stars of the enduro world ready to dance to the sounds of Flamenco.
Jerez – World Motorcycling Capital
For the very first time in the history of the Maxxis FIM Enduro World Championship, FIM assigned the Circuito de Jerez and the Real Federación Motociclista Española with the task of organizing the first European round of a season. Circuito de Jerez, chaired by Ignacio DIEZ, is widely known in the motorcycle world. Every year since 1986 it hosts a round of the MotoGP World Championship as well as a round of the Formula 1 World Championship. For 2015 Jerez de la Frontera has been appointed World Capital of Motorcycling, welcoming an extensive programme of motorcycle events.
For the Grand Prix AMV Seguros of Spain, the Circuito de Jerez and the RFME designed a track of 65 kilometres, which riders will complete three times during the two race days. There are two time checks in the track. The paddocks will be situated in the world-famous Circuito de Jerez. The Cross Test will take place in Garapillos while the Enduro Test 1 will be located in Estella Marques and the Enduro Test 2 in El Portal. Depending on the weather during the weekend, the rocky and normally dusty terrain can provide some great challenges. Friday night's KTM Super Test will be in Guadalcacim.
Jerez de la Frontera is located in the Cadiz province of Andalusia. This city is situated 39 kilometres north of Cadiz and 90 kilometres south of Seville, having more than 200.000 inhabitants. Built in the estuary of river Guadalquivir, it's a place known for its vineyards and its famous horses. Jerez has a rich historical heritage with buildings like the El Salvador cathedral and the Alcazar. The cellars of the largest sherry (xérès) producers are admired as architecture masterpieces. As the fifth largest city ofAndalusia, Jerez de la Frontera is also one of the capitals of Flamenco dancing, along with Sevilleand Cadiz.
PHILLIPS in need of results…
In Enduro 2, despite the double win of Antoine MEO (F – KTM) in Chile, the race for the title is going to be very intense. MEO aims to repeat his winning performance with Pierre-Alexandre RENET (F – Husqvarna) focusing on closing the gap to his biggest rival. RENET managed to score some valuable points in Chile despite his back injury and now sits six points behind MEO in the standings. Third overall in the championship Alex SALVINI (I – Honda) will try to avoid the mistakes he made in South America. Johnny AUBERT (F – Beta) is going to fight for a place in the podium after an encouraging first Grand Prix on his factory Beta. Behind these four, Oriol MENA (E – Beta), Victor GUERRERO (E – KTM), Romain DUMONTIER (F – Yamaha), Jaume BETRIU (E – Husqvarna)and Loïc LARRIEU (F – Sherco) will all battle for a final spot in the Top 5. The GP of Spain will also mark the return of Mirko GRITTI (I – Kawasaki) from injury.
Already a winner in Enduro 3, Matti SEISTOLA (SF – Sherco) is leading the standings in one of the most heated battles of the year. Both consistent and fast on his Sherco during the opening GP of 2015, the Finn will try to confirm his top form in Andalusia. But there'll be six more riders gunning for the win at the Grand Prix AMV Seguros of Spain. Mathias BELLINO (F – Husqvarna), winner on Saturday, Aigar LEOK (EST – TM), Jérémy TARROUX (F – Sherco), Thomas OLDRATI (I – Husqvarna), Antoine BASSET (F – Gas Gas) and Manuel MONNI (I – TM) all have the speed to cause some troubles to the leader. They just need to be a bit more consistent. On the contrary, the reigning World Champion Matthew PHILLIPS (AUS – KTM) needs to regain his top form soon, after a mediocre start to the season (3/8). Already 14 points behind class leader he has to react soon. Last but not least, Jérémy JOLY (F – KTM) needs to find his confidence back and prove he can fight for a Top 5, while Ivan CERVANTES (E – KTM) will try to excel in front of his fans. But E3 riders will also have to compete against one of the biggest superstars of off-road racing: Taddy BLAZUSIAK (PL – KTM)! The six-time SuperEnduro World Champion will race this Iberian tour on his 300 EXC and has already proved he can be a top guy at the 2014 GP of Italy.
Can REMES stop NAMBOTIN?
After a great ride in Chile (1/2) aboard his KTM 250 EXC-F, Christophe NAMBOTIN (F) aims to again find his way to the top of the podium while extending his championship lead. But one can definitely bet that the official TM rider Eero REMES (SF), winner of Day 2 in Talca, will do his best to stop NAMBOTIN. In this effort REMES will have the help of Yamaha riders Marc BOURGEOIS (F) and Cristobal GUERRERO (E) both performing well in Chile. 2014 Junior World Champion Danny MCCANNEY (GB – Husqvarna) is also a serious contender after his positive debut in Enduro 1. Italian Simone ALBERGONI (Kawasaki) wants to keep on building on his great start on his Kawasaki, while Lorenzo SANTOLINO (E – Sherco), Gianluca MARTINI (I – Yamaha), Kjetil GUNDERSEN (NOR – Honda), Edward HUBNER (D – KTM) and Rudy MORONI (I – Sherco) have to step it up if they want to retain their roles as outsiders. We'll also have to count on Diego ROJAS (CL – Yamaha) who is ready to fight with the best after his "home" Grand Prix of Chile.
With a win and a third place in South America, Jamie MCCANNEY (GB – Husqvarna) impressed in Enduro Junior. But anything is possible in this class.  Anyone from Giacomo REDONDI (I – Beta), to Alessandro BATTIG (I – Honda), to Benjamin HERRERA (CL – TM), to Portuguese Diogo VENTURA (Gas Gas) and Luis OLIVEIRA (Yamaha) is able to win. In FIM Youth Cup 125cc,Josep GARCIA (E – Husqvarna), the only European to make the trip to South America, is a serious contender for the title. This time he'll have some competition from Michele MARCHELLI (I – Husqvarna), Jordi GARDIOL (E – KTM), Quentin DELHAYE DE MAULDE (F – TM) and Luc MALIGES (F – KTM).
Finally, in the Women's Class, KTM Enduro Factory's newest recruit Laia SANZ (E) looks for her fourth consecutive title and a perfect season. She will compete against Jane DANIELS (GB – Husqvarna), Jessica GARDINER (AUS – Sherco), Samantha TICHET (F – KTM) and Jemma WILSON (AUS – Yamaha). Jessica JONSSON (S – Kawasaki) will make her comeback after two years of absence while we expect to see the US girl Amanda MASTIN (Beta) racing for the first time in the EWC.
With the Grand Prix AMV Seguros of Spain we are ready for some great thrills in the 2015 World Motorcycling Capital of Jerez de la Frontera. On May 8, 9 and 10, only a few days after the appearance of the stars of MotoGP in that same place, Jerez de la Frontera becomes the heart of world enduro.
Basic info:
– Jerez de la Frontera (Cadiz Province);
– 35 kilometres from Cadiz and 90 kilometres from Seville;
– Friday, May 8: KTM Super Test;
– Saturday and Sunday, May 9/10: Start 09:00am – Finish around 16:00pm;
– Organizer: Circuito de Jerez;
– Websites: www.enduro-abc.com and www.circuitodejerez.com;
– Track: 65km – 3 laps;
– Free Access;
– Airport: Seville (90 km)