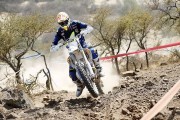 The legendary "Bergamasche Valley"
After a five-year absence the Maxxis FIM Enduro World Championship is returning to 'Bergamasche Valley' for what is set to be a demanding and historical Grand Prix. This coming weekend the EWC returns to Rovetta, high up in the hills of northern Italy…
After five long years without organising a Grand Prix of the Maxxis FIM Enduro World Championship (Lovere 2010), Moto Club Bergamo has decided to get back in the action and delight of the Italian tifosi and enduro fans. Its president, Andrea GATTI, had no trouble convincing theFederazione Italiana Motociclistica (FMI) and the FIM to organize the fifth round of the 2015 EWC season.
Rovetta… 9 years later!
Moto Club Bergamo have created a great track – close to 54 kilometres in length, the lap will offer all the difficulties of the steep sided 'Valli Bergamasche'. The Enduro Test will be long, very technical and will be located in Plarina while the Xtreme Test will offer many, all-natural, challenges, and perfectly characterise the province of Bergamo. This special test will be located in Bossico, like the Cross Test. The KTM Super Test of Friday Night will offer a show like only the Moto Club Bergamo knows how to organise, and will be located in Clusone. For its part, the paddock will take place in Piazzale "Scuole" of Rovetta – the summer training center of professional football team Atalanta Bergamo!
A relatively small town of Lombardy, Rovetta has approximately 4,000 inhabitants and is located right next to Lovere – host city of the last Italian Grand Prix organized by the Moto Club Bergamo in 2010. Rovetta is only 40 kilometres from Bergamo and 100 km from Milan. The province ofBergamo is a fertile ground for Enduro sport. It is part of the history and DNA of the Maxxis FIM Enduro World Championship and no doubt the Italians riders such as Alex SALVINI (Honda),Thomas OLDRATI (HVA – Bergamo), Simone ALBERGONI (Kawasaki – Bergamo), Rudy MORONI (Sherco – Bergamo) or young prospect Giacomo REDONDI (Beta – Bergamo) andDavide SORECA (Beta) and the local man Jonathan MANZI (Gas Gas – Lives in Rovetta) will be gunning to deliver podium results.
With over 120 entrants, the Grand Prix Acerbis of Italy has once again proved to be a popular one with riders set to do battle over two tough days of competition.
Rovetta
RENET has to confirm
After returning to form with an unstoppable double win in Greece, Pierre-Alexandre RENET (F – Husqvarna) will look to continue his good form and to further reduce the gap to class leader Antoine MEO (FRA – KTM). Clearly not at his best in Serres, the official KTM rider will have to react strongly in order to stop RENET getting dangerously close to his championship lead with two races to go. But the man to follow this weekend will be Alex SALVINI (I – Honda). The home favourite, who scored two victories last year in Lumezzane, will seek to give his fans two more wins to his fans this weekend. Behind this magic trio, Loic LARRIEU (F – Sherco) and Jaume BETRIU (E – Husqvarna) will offer a great duel, and should be joined by local racer Nicolo MORI (ITA – KTM) and Deny PHILIPPAERTS (I – Beta) as well as Spaniard Victor GUERRERO (ESP – KTM). What about Johnny AUBERT (F – Beta)? If he is fully recovered from his injury in Portugal, he could also join the top three at his team's home GP…
In Enduro 3, it's a critical time for Matthew PHILLIPS (AUS – KTM) and Matti SEISTOLA (SF – Sherco). Following the double of Mathias BELLINO (F – Husqvarna) in Greece, both riders are now more than 20 points behind the leader and in need of taking back valuable championship points. The case will be even harder for Matti SEISTOLA, who injured to his right hand in Serres and will again have to show a mind of steel. Aigar LEOK (EST – TM) is also likely to feature well in his team's home GP. In great form the Estonian will be wanting to show that he's a winner, not just a podium finisher. They will also have to count on the Italians Manuel MONNI (TM) and Thomas OLDRATI (Husqvarna) who will be hungry for strong home results. Also, Luis CORREIA (P – Beta), Jeremy JOLY (FRA – KTM) or Jonathan BARRAGAN (E – Gas Gas) could deliver some surprises. We also hope to see Antoine BASSET (FRA – Gas Gas) return to competition.
Thomas OLDRATI will look for a podium in front of his home crowd
REMES wants to take the lead!
In Enduro 1, Eero REMES (SF – TM) proved in Greece that he's a serious challenger for the Enduro1 title and can clearly rival Christophe NAMBOTIN (F – KTM) over an entire weekend. Nambotin, struggling with a knee injury, wasn't anywhere close to being 100% in Serres, and will seek to rebuild his lead in Rovetta… But REMES, with full confidence, will put pressure on NAMBOTIN and could take the lead after this Grand Prix. Behind them, Marc BOURGEOIS (F – Yamaha) wants to continue his good form while Lorenzo SANTOLINO (E – Sherco), who becomes faster and faster on his Sherco, and Danny MCCANNEY (GB – Husqvarna), who sits third E1 standings, will both be gunning for glory. Cristobal GUERRERO (ESP – Yamaha) is likely to be vengeful after the Grand Prix in Greece as well as locals Simone ALBERGONI (Kawasaki), Rudy MORONI (KTM) and Gianluca Martini (Yamaha). Will Rovetta resident Jonathan MANZI (I), who was absent in Greece, be present aboard his Gas Gas for his home Grand Prix?
Finally, in Juniors, Jamie MCCANNEY (GB – Husqvarna) will attempt to widen the gap on Italian rivalGiacomo REDONDI (I – Beta). The Italian will be hungry at home and he has also signed his first world podium in Lovere in 2010. Steve HOLCOMBE (GB – Beta), should continue to impress and try to still take points back to the two championship leaders while Alessandro BATTIG (I – Honda) will try to repeat his result from the series opener in Chile where he climbed to the top step of the podium.Matteo BRESOLIN (ITA – KTM), Davide SORECA (I – Beta) and Nicolo BRUSCHI (I – Honda) will want to shine azzuri colours while Diogo VENTURA (P – Gas Gas) will look to make his return to the podium.
In FIM Youth Cup 125cc, the duel Josep GARCIA (E – Husqvarna) – Mikael PERSSON (S – Yamaha) take on a new dimension. If the Spaniard is sufficiently recovered from his collarbone injury, both riders should give us a good show. Behind the French Luc MALIGES (KTM), Luca GARELLO (Yamaha), David ABGRALL (Yamaha), Jean-Baptiste NICOLOT (Yamaha) and Valerian DEBAUD (Yamaha) and Britain's Jack EDMONDSON (KTM) will fight for the last step of the podium.Mirko SPANDRE (I – KTM), meanwhile, will have all public favor for his second Grand Prix.
This Grand Prix Acerbis of Italy should be a thrilling race, held on land where the Italians will be hugely motivated to win. See you on 19, 20 and 21 next June in Rovetta, in the cradle of the Italian Enduro for the 5th Grand Prix Maxxis FIM Enduro World Championship!
Information:
–    Rovetta (Bergamo Province);
–    40 kilometers of Bergamo and 100 kilometers of Milano;
–    Friday, June 19th: KTM Super Test from 18.00
–    Saturday 20th and Sunday 21st June: Start: 9.00 and Arrival around 16.00;
–    Organizer: Moto Club Bergamo;
–    Websites: www.enduro-abc.com and www.motoclub.bergamo.it
–    Track: 54kms – 4 laps;
–    Free Access;
–    Airport: Milan Malpensa – Milan Bergamo (around 110 kms)