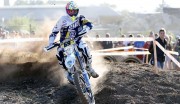 Husqvarna Motorcycle's Mathias Bellino further strengthens his lead in the FIM Enduro 3 World Championship with a double win in St Hubert, Belgium.
With round six marking the penultimate round of the 2015 FIM Enduro World Championship, Bel-Ray Husqvarna Factory Racing's Mathias Bellino claimed Enduro 3 class victory on both days while Jamie McCanney also increased his lead in the Enduro Junior category with a win on day two.
Firing on all cylinders in Belgium, championship leader Bellino recorded a double win in St Hubert. Back to his best following a small wrist injury in Italy, Bellino attacked hard from the Friday super test. Setting the outright fastest time, he produced a confident ride to win day one. Determined to make it a double winning result, Bellino took control of the lead midway through day two and hung on to win.
Focused on maintaining his advantage at the head of the Enduro Junior class, Jamie McCanney further strengthened and extended his lead in the standings during the GP of Belgium. With the penultimate round of the series proving tough, the Husqvarna rider rode a smart and calculated race. Second on day one, McCanney picked up win on day two with another consistent and mistake free ride.
The GP of Belgium was a solid outing for Danny McCanney in Enduro 1. Injuring his knee at the previous round in Italy, McCanney was unsure whether he would be able to ride. With a heavily strapped knee the Manxman delivered a stunning performance on day one. Fighting hard with defending champion Christophe Nambotin for second, McCanney eventually had to settle for third.
Suffering some discomfort following his previous day's effort, McCanney dug deep and again battled for a top three result. Missing out on the podium by less than one second, he ended his day fourth but more importantly maintained his position of third overall in the standings.
The penultimate round of the series in Belgium saw Pela Renet's defence of his Enduro 2 crown come to an unfortunate end. Crashing heavily on the opening enduro test of the weekend, the Husqvarna rider injured his shoulder and was unable to take part in the rest of the event.
Catching a slower rider on the test, Renet was momentarily blinded by the rider's dust and caught a shallow rut with his front wheel at high speed. Immediately knowing something was wrong Renet was taken to hospital. Further tests later this week will determine the extent of his injury.
Husqvarna Spain's Josep Garcia had a weekend of mixed fortunes. Winning the Enduro Youth Cup on day one he was unable to finish day two.
In the Women's Cup, Husqvarna UK supported Jane Daniels secured two podium results by placing second each day while also setting the fastest time in three of the special tests on Sunday.
The FIM Enduro World Championship concludes with the GP of France in Requista on October 3/4.
Mathias Bellino: "It's been a really perfect weekend for me – honestly I can't fault it. After having a slight injury to my wrist during the GP of Italy I wanted to come here and sort of redeem myself. I've said all year that if I'm able to win then I need to fight for it and from Friday's super test I did exactly that. Securing the fastest time there put me in a confident mood for the entire weekend and I was able to build on that momentum and win both days. It was a tough race, especially the enduro test. It was difficult and you had to approach it differently. I pushed hard where I knew I could and then rode smart where I couldn't and in the end it paid off. With a 24-point lead entering the final round in France, all I can say is that I'm excited for my home race!"
Danny McCanney: "I hurt my knee quite badly at the previous race in Italy – one week ago I wasn't sure if I could race – so to place third and fourth is incredible for me. Day one was brilliant. I had a very close battle with Christophe Nambotin for most of the day and in the end he just beat me for second. I was fighting for the podium on day two with Lorenzo Santolino. It's slightly frustrating to miss out on third by less than one second but overall I'm more than happy with my weekend."
Jamie McCanney: "It's been fantastic to place second and first this weekend. At this stage in the season I'm trying to look at the bigger picture. I've got a strong lead in the championship but it could be easy to mess it up by taking unnecessary chances. I attacked hard early on day one but so too did Steve and when I saw his time on the enduro test I wasn't quite willing to push the limits so I settled for second. He was riding great on day two and I was happy enough to sit in second. Unfortunately for him he made a mistake but I'll take the win and extra championship points. Now my focus is on the final round in France."
RESULTS – FIM ENDURO WORLD CHAMPIONSHIP, ROUND 6
DAY 1
Enduro 1
1. Eero Remes (TM) 1:11:25.18; 2. Christophe Nambotin (KTM) 1:12:27.44; 3. Daniel McCanney (Husqvarna) 1:12:38.57
Enduro 2
1. Antoine Meo (KTM) 1:11:18.25; 2. Alex Salvini (Honda) 1:11:57.33; 3. Loic Larrieu (Sherco) 1:12:23.06; 4. Jaume Betriu (Husqvarna) 1:13:04.12… 8. Nicolas Deparrois (Husqvarna) 1:14:26.13… 19. Jerome Martiny (Husqvarna) 1:19:21.30
Enduro 3
1. Mathias Bellino (Husqvarna) 1:11:49.30; 2. Matti Seistola (Sherco) 1:12:06.83; 3. Matthew Phillips (KTM) 1:12:11.15… 11. Dennis Schroeter (Husqvarna) 1:16:45.58… 14. Wim Vanderheyden (Husqvarna) 1:21:03.23
Enduro Junior
1. Steve Holcombe (Beta) 1:12:16.94; 2. Jamie McCanney (Husqvarna) 1:12:44.11; 3. Davide Soreca (Beta) 1:13:42.70… 20. Marcos Beraza (Husqvarna) 1:22:29.25… 22. Lillo Gauthier (Husqvarna) 1:25:41.03
Youth Cup
1. Josep Garcia (Husqvarna) 1:03:06.67; 2. Jack Edmondson (KTM) 1:04:13.74; 3. Mikael Persson (Yamaha) 1:04:55.54… 11. Jaime Perez (Husqvarna) 1:10:56.45
Enduro Women
1. Laia Sanz (KTM) 49:21.35; 2. Jane Daniels (Husqvarna) 50:21.40; 3. Jemma Wilson (Yamaha) 58:33.26
DAY 2
Enduro 1
1. Eero Remes (TM) 56:20.35; 2. Christophe Nambotin (KTM) 56:34.18; 3. Lorenzo Santolino (Sherco) 57:11.61; 4. Daniel McCanney (Husqvarna) 57:12.18
Enduro 2
1. Antoine Meo (KTM) 1:05:49.30; 2. Alex Salvini (Honda) 1:06:06.15; 3. Loic Larrieu (Sherco) 1:06:22.75; 4. Jaume Betriu (Husqvarna) 1:07:40.70… 12. Nicolas Deparrois (Husqvarna) 1:09:12.34… 18. Jerome Martiny (Husqvarna) 1:13:58.27
Enduro 3
1. Mathias Bellino (Husqvarna) 1:05:59.90; 2. Matthew Phillips (KTM) 1:06:13.95; 3. Matti Seistola (Sherco) 1:06:18.68… 10. Dennis Schroeter (Husqvarna) 1:10:57.26… 13. Wim Vanderheyden (Husqvarna) 1:15:13.48
Enduro Junior
1. Jamie McCanney (Husqvarna) 1:08:07.95; 2. Davide Soreca (Beta) 1:08:26.68; 3. Giacomo Redondi (Beta) 1:08:29.49… 18. Marcos Beraza (Husqvarna) 1:18:11.85; 19. Lillo Gauthier (Husqvarna) 1:20:29.05
Youth Cup
1. Mikael Persson (Yamaha) 1:10:25.52; 2. Jack Edmondson (KTM) 1:11:24.79; 3. Quentin Delhaye de Maulde (TM) 1:12:24.11… 10. Jaime Perez (Husqvarna) 1:18:18.66
Enduro Women
1. Laia Sanz (KTM) 57:34.76; 2. Jane Daniels (Husqvarna) 58:22.56; 3. Jemma Wilson (Yamaha) 1:02:11.36
Championship Standings (After Round Six)
Enduro 1
1. Eero Remes (TM) 221pts; 2. Christophe Nambotin (KTM) 214pts; 3. Daniel McCanney (Husqvarna) 157pts… 16. Christophe Robert (Husqvarna) 11pts
Enduro 2
1. Antoine Meo (KTM) 228pts; 2. Alex Salvini (Honda) 191pts; 3. Pela Renet (Husqvarna) 175pts… 5. Jaume Betriu (Husqvarna) 137pts
Enduro 3
1. Mathias Bellino (Husqvarna) 217pts; 2. Matthew Phillips (KTM) 193pts; 3. Matti Seistola (Sherco) 163pts… 9. Thomas Oldrati (Husqvarna) 91pts
Enduro Junior
1. Jamie McCanney (Husqvarna) 220pts; 2. Giacomo Redondi (Beta) 183pts; 3. Steve Holcombe (Beta) 166pts… 17. Albin Elowson (Husqvarna) 19pts
Youth Cup
1. Mikael Persson (Yamaha) 186pts; 2. Josep Garcia (Husqvarna) 162pts; 3. Jack Edmondson (KTM) 129pts… 13. Michele Larchelli (Husqvarna) 30pts… 17. Jaime Perez (Husqvarna) 25pts… 19. Mario Escobar (Husqvarna) 16pts
Enduro Women
1. Laia Sanz (KTM) 120pts; 2. Jane Daniels (Husqvarna) 96pts; 3. Jemma Wilson (Yamaha) 69pts