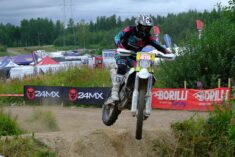 The three-time world champion imposes himself again on his opponents, Daniel Mundell conquers the second place overall while Erik Willems confirms himself third.
The second Finnish day of the Borilli Enduro European Championship took place on Sunday 24th of July, under a shy sun, which hidden by the clouds gave respite to the drivers who started on time from 9.00.
In 24MX Round #3 Day 2 the number of drivers who started decreased compared to day 1, the difficulty of the race forced some participants to withdraw; the structure of the race also changed; the number of laps was, in fact, reduced to 2 and a half.