2020 FIM ISDE to be held in Italy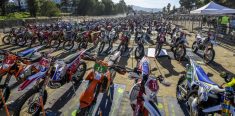 After the fantastic results achieved by Italy at the 2018 FIM ISDE in Chile – where they conquered the FIM Junior World Trophy, took third place in the FIM World Trophy and won the Club Team Award – the Italian and international Enduro communities have another great announcement to celebrate: the 2020 Six Days will be held in Italy! The FIM has informed FMI (Italian Motorcycling Federation) that the request by Moto Club Alfieri to organise the ISDE has been accepted.
The dates are still being defined, but the Six Days will certainly take place between the end of August and the beginning of September, over the Piedmont and Lombardy regions. Moto Club Alfieri will organise the event in collaboration with other FMI clubs, and they are already working to prepare a memorable ISDE. The Six Days will be making its return to Italy (after the 2013 edition in Sardinia) in a territory with a strong Enduro tradition.
Jorge Viegas, FIM President expressed his satisfaction: "Italy has a lot of experience in the organisation of the FIM ISDE, as the country will be hosting the competition for the ninth time since its origin in 1913. Italy's experience and affection for Enduro is a guarantee of success for the 94th edition!"
Giovanni Copioli, FMI President said: "I am really proud, both as president and as a passionate motorcycle fan, that the FIM ISDE will return to Italy. Six Days is a unique competition because of its history and the challenge between national teams. Furthermore, after the victories in Chile, there is a lot of enthusiasm. Congratulations to the Moto Club Alfieri! We wish to give big encouragement to all the clubs that organise this event. All eyes of the Enduro world will be focused on Italy and there is no doubt that the ISDE will have a great (economic and not only) impact on the areas where the race will be held."
Franco Gualdi, FMI Enduro Committee Coordinator said: "In our country there is a lot of passion for Enduro. The organisation of a second edition of the ISDE in Italy within just a few years' time bears witness to this. Six Days is a great event for hundreds of enthusiastic amateur riders who will surely come to Italy. Moto Club Alfieri and the other clubs have a lot of experience and expertise to organise this big event."
Giorgio Bandoli, Moto Club Alfieri President, said: "We are very proud and excited to organise the 2020 FIM ISDE. In 2015 we had the idea of asking to host the Six Days and now we are already working very hard on it. We are enjoying a great collaboration with other clubs."