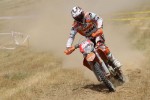 Guerrero, Remes and Nambotin Shine Bright On Day Two In Italy
Spain's Cristobal GUERRERO and Finland's Eero REMES secure their first victory of the season in Enduro 2 and Enduro 1 at the Maxxis Enduro World Championship GP Scorpion EXO of Italy. Local favourite Jonathan MANZI wins Enduro Junior at a sun baked Castiglion Fiorentino, Italy…
With temperatures continuing to soar in Italy, the competitors of the EWC were once again put through their paces in the physically demanding GP Scorpion EXO of Italy. With some riders struggling to cope with the intense conditions, others shone bright. Cristobal GUERRERO (KTM) finally grabbed the victory he has shown to be capable of all season in Enduro 2 while KTM's Eero REMES relished in the 35 plus degree heat to win Enduro 1.
However, the biggest story of the day came from Spain's Laia SANZ (Gas Gas) as she rode through the pain of a suspected broken foot sustained during the final lap to win the Women's Cup. There was disaster for two of KTM's main contenders when both Antoine MEO (F) and Johnny AUBERT (F) failed to complete the opening lap. AUBERT became a victim of the same technical problem that ruled him out of day one, while Enduro 1 championship leader MEO suffered a mechanical issue on the opening Cross Test. Although managing to repair the damage, the Frenchman lost too much time and was forced to stop. Husaberg's Pierre-Alexandre RENET's day was also ruined due to mechanical gremlins. While battling for victory the Frenchman caught a rock on the second end uro test and derailed his chain, which cost him almost four minutes. He fought back to finish 13th in Enduro 2. Spain's Cristobal GUERRERO finally broke through to secure his first victory of the season in Enduro 2. Trailing early race leader Juha SALMINEN (FI – Husqvarna) by six seconds at the end of lap three, the KTM rider took advantage of a costly crash by SALMINEN during the Enduro Test to inherit the lead. Maintaining his lead for the rest of the day the Spaniard secured a pleasing win."I've extremely happy to have won," declared a delighted GUERRERO. "My speed has been good all season but mistakes held me back. Finally today everything went perfect and I was able to win – it's been a great day!"
Hoping to repeat his winning result from day one, Finland's Juha SALMINEN saw his chances dashed with a crash on lap three. Losing valuable time, the Husqvarna rider ended his day as runner up to GUERRERO. Returning to the podium for the first time since Argentina, Spain's Ivan CERVANTES (Gas Gas) placed a much-relieved third. Continuing to establish himself as a real threat in Enduro 2, France's Antoine BASSET (Yamaha) claimed an impressive fourth in the Enduro 2. Improving one position from the previous day, Italy's Oscar BALLETTI (Beta) was fifth.Making amends for his numerous mistakes on day one, France's Christophe NAMBOTIN (KTM) ended day two as the winner of Enduro 3. Enjoying a great fight with both Sweden's Joakim LJUNGGREN (Husaberg) and Britain's David KNIGHT (KTM), the Frenchman topped seven of the day's 12 special tests to win by 12 seconds."I learned a lot from my mistakes on day one and was much more controlled today," remarked NAMBOTIN. "It was a good fight and was nice to put yesterday's bad luck behind me to win."Untroubled by the difficult rocky Italian terrain on day two, LJUNGGREN produced his best result of the weekend to finish second. Keeping touch with NAMBOTIN throughout the day, the Swede also held off a late charge by KNIGHT to secure a strong result. Hampered by a crash on the opening Extreme Test, KNIGHT fought back to place third and end his day 16 seconds behind NAMBOTIN.Estonia's Aigar LEOK (TM) capped off a solid performance in Italy with fo urth place on day two while Spain's Oriol MENA (Husaberg) finished eight seconds behind the TM rider to complete the top five.
In Enduro 1, Eero REMES (KTM) capitalised on the untimely exit of MEO to record his first win of the season. Spending the day trading positions with fellow countryman Matti SEISTOLA (FI – Husqvarna), REMES gradually extended his advantage during the final lap to top his class by almost 34 seconds. "I just tried to concentrate on my own race today and it paid off," confirmed. REMES. "My speed was strong all day and I didn't make any mistakes. I hope to use this result as a confidence booster leading into my home races in Sweden and Finland in two months time."Pushing too hard during the opening two laps, SEISTOLA began to suffer from the intense Italian heat. Unable to maintain pace with REMES , SEISTOLA eventually slipped back behind the KTM rider to finish second. Italy's Thomas OLDRATI (KTM) delivered a solid result on home soil to end day two third overall in Enduro 1. Rapidly improving on his day one result, France's Rodrig THAIN (Honda) jumped four places to finish fourth while Sherco's Fabien PLANET (F) completed the top five.
Italy's Jonathan MANZI (KTM) secured a sensational win in Enduro Junior. Faced with a highly motivated Argentinean, Kevin BENAVIDES (KTM), the young Italian held on to secure victory by less than one-second. With BENAVIDES missing out on the win by the narrowest of margins, championship leader, Mathias BELLINO (F – Husaberg) completed the top three, albeit some 38 seconds behind the leading duo. Italy's Nicolo MORI (TM) claimed his best result of the year to finish fourth and beat fellow Italian Rudi MORONI (KTM) by two seconds.Winning all 12 of the day's special tests, Italy'sGiacomo REDONDI (KTM) easily topped the Enduro Youth Cup. Guido CONFORTI (I – Yamaha) repeated his day one result of second while Husaberg'sMatteo BRESLOIN (I) completed the top three.
It was yet another dominant display of riding from Gas Gas' Laia SANZ as she recorded her second victory of the weekend. However, drama struck the Spaniard when she suffered a suspected broken foot during the final Extreme Test. Completing the rest of the lap in intense pain, she managed to finish and claim the win by almost three minutes over France's Ludivine PUY (Gas Gas). With PUY finishing second, France's Audrey ROSSAT (KTM) was a distant third. Samantha TICHET (F – Husqvarna) and Jemma WILSON (AUS – Honda) completed the top five.