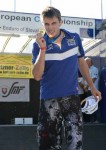 The latest champions The day before the most decisions had been made, still in some classes it was the all-important question of the title.
These where awarded at the final-motocross, where the riders for the fist time competed against each otheran not only against the clock. At the end Aigar leok Took the title in the overall standings, was therefore the best European rider of all classes!
For this he won also the last race, was only "theoretically" overtaken by the Junor Gianluca Martini from the E2/E3-Class. This one started in another heat and was at the end only on the clock faster then the Estonian.
In his class, the E3-class, Leok was "only" vice-champion behind Maurizio Micheluz while he did not participated at the first round in Italy. There Micheluz built up the foundation of his success with his Beta.
Two more decisions need to be made this very last day:
In the class of the youngest juniors, which was first deployed this year, took the 20 year old Guido Conforti on his 125 cc Yamaham the titel. His last concurrent, the Swede Oliver Nelson, had to watch without a fight, afer he slipped in the final-cross.
Much more exiting was the fight in the womens-class: defending champion Heike Petrick was two points back to the current leader Marita Nyqvist from Finnland. After the start, Nyqvist risked too much and crashed in the second turn and ended up only third. Petrick crowned her racing career with this second European titel – next year she will stopp racing.
The club in Krompachy presented a more than worthy final: from the track up to all the tests and up to the enthusiastic audience.
In the perfect weather, an international sport festival came to an worthy end!
For many riders the season is not over yet – but the European Enduro-Championship has shown at its best with the four events from Italy to Estonia, Latvia an Slovakia.