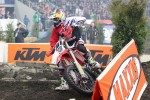 Things become clearer…
The year has nearly finished with visits to the rider's market all but complete for each team.  Here is a recap:
KTM
The KTM Farioli team are already ready for next season and have been for over a month. Antoine MEO (F) will put his E1 crown into play and will be accompanied by Cristobal GUERRERO (E) who let his E2 place go to another Spaniard…Ivan CERVANTES. In the E2 class, "El Torrito" will ride the EXC-F 350 and has Johnny AUBERT (F) as a teammate, the Frenchman having signed a one-year extension with the Austrian firm. Finally, Christophe NAMBOTIN (F) will be the only team rider in E3.
Within the supported KTM team, Fabio FARIOLI will retain ex-motocross rider Rudi MORONI (I), the other GUERRERO…Victor plus Marcus KEHR (D) and Manuel MONNI (I) whilstOscar BALLETTI (I) has also joined the team and will ride in E2.
Rumours say that Antoine MEO and Fabio FARIOLI will helpSebastien GUILLAUME (F) integrate the supported team a lot further next year.
CH Racing
On the Fabrizio AZZALIN side everything is clear. Juha SALMINEN (SF) will be back on the TE 250 in E1 and will team up with his compatriot Matti SEISTOLA. It promises some exciting battles with MEO. In E2, it is Lorenzo SANTOLINO (E)who will represent Husqvarna on the TE 310. Finally, "AZZA" has made a great move in the last few weeks, recruiting Australian prospect Matthew PHILLIPS (19 years old) for the Junior class.
HM Honda
For the Italian firm, the main deals are complete. Franco MAYR has taken on Simone ALBERGONI (I) for E1 and Alex SALVINI (I)for E2. So Rodrig THAIN (F) leaves the team…
Husaberg
Next year, the Swedish team has even more riders under their umbrella! New official rider, Jamie MCCANNEY (GB) will be one of the favourites for the FIM Youth Cup 125cc. In the Junior class with Mario ROMAN (E), Eric BERNARD has signed ex-motocross rider Loïc LARRIEU (F) in the Thomas GUSTAVSSON team. Finally, Thomas OLDRATI (I) will ride in E1 on the brand new FE 250,Pierre-Alexandre RENET (F) will try to grab his second consecutive crown in E2 and will be accompanied by Joakim LJUNGGREN (S).  Oriol MENA (E) continues in E3 with the 2012 Junior World Champion Mathias BELLINO (F).
Within the Husaberg supported team, Thomas GUSTAVSSON will continue with Christophe ROBERT (CH), Albin ELOWSON (S),Johan EDLUND (S) and Jesper BORJESSON (S) and will also provide a lot of help for the British female prospect Jane DANIELS.
Gas Gas
During the off-season, the Catalan team have changed almost everything! It's goodbye to Seb GUILLAUME, Ludivine PUY (F) andIvan CERVANTES and the firm from Gijon will continue with only Laïa SANZ (E) and Danny MCCANNEY (GB)! Next season, Jordi FIGUERAS (E) will manage the team that will comprise of MCCANNEY in the Junior class, Laïa SANZ in the Women's class andRodrig THAIN in E3.
Three Chilean Juniors will participate throughout the entire season as supported riders for the FIM Youth Cup 125cc and the O. Pons team are leaving Yamaha to join the Gas Gas Factory… Two representations of the colours of the Spanish factory will be displayed in the paddock next year…
Jean-François GOBLET (B) has joined Gas Gas Belgium for next season and will often be seen in the EWC paddock…
Sherco
Everything was arranged after the finale of the EWC! Jérémy TARROUX (F – E1) and Fabien PLANET (F – E3) will ride with the official team while Anthony BOISSIERE (F – E1) and Julien GAUTHIER (F – E2) will represent Sherco with the Moto Pulsion team of Frederic COLLIGNON.
TM
TM completed their team over a month ago. Luca CHERUBINI has made a big deal on the transfers market by signing Eero REMES (SF) who will ride in E1. The other Finn on the team, Antti HELLSTEN (SF) will compete in the highly competitive E2 class while Aigar LEOK (EST) will try to concentrate on improving in E3… Two young riders will also join the team within the next few days.
Beta
Fabrizio DINI was looking for three riders for 2013, and he found them! Sebastien BOZZO (F) switches from Beta Boano to Beta Racing just like Robert KVARNSTROM (S) who must be one of the favourites for the Junior class. Finally, the Italian firm has hired the ex-motocross rider Luis CORREIA (P) to race in E2.
Beta Boano
For the other Beta team managed by Jarno BOANO, Deny PHILIPAERTS (I) continues his adventures in E2 and Davide SORECA (I) will continue to aim for the top 5 in the FIM Youth Cup 125cc.
Ina TV Racing
The last season was difficult for the Greek team, with transfers in the middle of the season for Jemma WILSON (AUS) and a big injury for their Junior Kimon KARAMPELAS (GR). However, Nick ZOURNATZIS (manager) has made some exciting new recruitments for next year… Juliette BERREZ (F) will represent the team in the Women's class, while Nicolas DEPARROIS (F) will also try either E1 or E2. Romain DUMONTIER (F) may also join the Ina TV Racing team as the Greeks are looking for a third Yamaha rider.
Johansson MPE
We know finally the roster of the Swedish team! The best 2012 private rider Jérémy JOLY (F) will be back on a Honda, within the team managed by Joakim JOHANSSON in E1 and will team withJakob MORHED (S). Meantime, the talented Jemma WILSON will continue association with Johansson MPE. But Joakim JOHANSSON has made another nice shot on the Transfer market recruiting Marko TARKKALA (SF) to compete in the E3 class.
FTO Racing
At the GP AMV of France, Benoit FORTUNATO (F) was already competing on his new bike; a Honda 450cc. For 2013, "FORTU" will ride bikes provided by the French importer, HM Honda Euroboost in E3.
EEAT
Alexandre QUEYREYRE (F), Antoine BASSET (F) and Kevin ROHMER (F) are still under contract; it is the youth rider Jérémy MIROIR (F) who will replace Marc BOURGEOIS (F). Jean-Luc MIROIR's son will compete in the FIM Youth Cup 125cc.
Marc BOURGEOIS
A nice surprise at the beginning of the 2012 season, Marc BOURGEOIS has found his way. "McFly" will continue in the EWC on a Yamaha in E1, with support from Yamaha Motor France.
Bordone Ferrari
Last season the arrival of Bordone Ferrari at the EWC made some big noises. Less than a year later, it seems that the nice adventure may already be over. For Alex BELOMETTI (I), there is no time for upset as he is preparing a new team for next season, with two young riders Jonathan MANZI (I) and Edoardo D'AMBROSIO (I). A third rider will be added…the young prospectMatteo BRESOLIN (I). All three competitors will be present in the EWC paddock riding Yamahas…
KNIGHTER
For David KNIGHT (GB), everything has been resolved. The British rider announced in November via Twitter that he will ride the complete 2013 season on Honda within his own team and will be managed by great friend Paul EDMONDSON. KNIGHTER will attempt to win his 4th world title, but in E2 on the 450cc CRF!