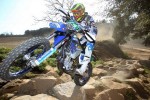 Entering the fray from the very first Grand Prix Acerbis of Chile, the Junior class will take on a major renewal of riders with the departure of previous riders into senior categories. Among them, the outgoing World Champion Mathias BELLINO (F – Husaberg), Kevin BENAVIDES (ARG – KTM), Victor GUERRERO (ESP – KTM) and Alexandre QUEYREYRE (F – Yam) to mention just a few! Everything has changed for this season…
The Favourites…
With the departure of Mathias BELLINO (F – Husaberg) to E3 with his Junior title from 2012, the group seems more open now…but Mario ROMAN (E – Husaberg), Giacomo REDONDI (I – KTM), Danny MCCANNEY (GB – Gas Gas), Robert KVARNSTROM (S – Beta) and Jonathan MANZI (I – KTM) still seem to stand out…
– Mario ROMAN (E – Husaberg): In 2011, the Spaniard missed the title by 12 points and then in 2012 he had a difficult season with several injuries including a knee injury during the 2011 final, which deprived him of a South American tour. 2013 is synonymous with new beginnings and great expectations for ROMAN the new Husaberg Factory rider, who wants nothing other than the title! Mario knows more than anyone else, who has just turned 23 years old and this is his last chance to claim this title and add it to his prize list!
– Giacomo REDONDI (I – KTM): The Italian leaves an impressive 2012 year with the title of FIM Youth Cup 125cc World Champion and he won it at the sixth Grand Prix of the season in Sweden (more than 116 points ahead of the second place competitor). The next step however, is more difficult because of increased competition but the KTM Iron Racing rider is unashamedly talented. The Bergamasco is young and has the whole future ahead of him.
– Danny MCCANNEY (GB – Gas Gas): In his first season on the EWC, the Manxman has managed to make a good reputation in the paddock by grabbing third place. For all observers, the Gas Gas racer, along with his brother, is the bright future of the British Enduro. A worker and more methodical than his rivals, "Danny Mac" appears to have all he needs to be crowned at the end of the season… He has also claimed an impressive season in SuperEnduro, which has brought a lot of confidence to him.
– Robert KVARNSTROM (S – Beta): The Swede had a great return in 2012 aboard the Beta of Boano team after two difficult years…KVARNSTROM even seemed to have calmed down and was more regular and consistent than in the past. This makes him a real contender and the new Beta rider will not miss for sure!
– Jonathan MANZI (I – KTM): After a great 2012 season where he finished runner-up to Mathias BELLINO, the tough Italian is really looking for the title in 2013. The KTM rider is designated as one of the greatest hopes of the Italian Enduro but will miss the South American tour. This could be a big problem in terms of winning the title in his final year as a Junior…
Thirsty For Victory…
These riders could create a surprise, challenging the favourites and maybe winning on some days…
– Edoardo D'AMBROSIO (I – KTM): During last season, the Italian showed good growth unfortunately hampered by a broken collarbone in Finland… Back to business, Edo participates in the EWC 2013 version riding a new Yamaha from the CMBelometti team. He might come to mingle with the fight for the title in a new team where he will be the leader.
– Johan EDLUND (S – Husaberg): The young Swede (Photo) will start in Chile in his last season as a Junior and will have to confirm all the hopes that Thomas GUSTAVSSON and Husaberg have placed in him since last season! He seems to have improved a lot as evidenced by his excellent results in SuperEnduro.
– Nicolo MORI (I – Beta): A change of team for the Italian passing from TM to Beta Boano. The number 80 should continue his high level of discovery and progress before he can look for a title in one or two season's time…
– Kevin ROHMER (F – Yam): The pilot of the EEAT is 23 years old and will this is his last season in this category. But his serious accident in the 2012 ISDE will not allow him to be ready for the South American tour. The Alsatian should achieve good performance thereafter to the delight of his fans.
– Rudi MORONI (I – KTM): The former MX rider gave a strong performance in 2012 (two podiums) and a fifth place overall. For the Italian with the "Afro" haircut the goal will be to join in the battle between the favourites due to his undeniable burst of speed!
– Arnau SOLA (E – Gas Gas): SOLA will begin his second full season in the World Championship and should be able to climb to at least the top 15 in this category…
New Arrivals…
These riders will make their debut in the special test of the EWC… Or come to us straight from the FIM Youth Cup 125cc full of talent and ambition…
– Matthew PHILLIPS (AUS – HVA): Is designated as a future Australian star, has been much talked about during the ISDE with a 7th place. It will undoubtedly rely on the "Aussie" moreover managed by Fabrizio AZZALIN even if he will have to acclimate to the world of Grand Prix, which is very different and much more elitist than ISDE…
– Loïc LARRIEU (F – Husaberg): A new pearl stolen by Eric BERNARD from MX who also fits directly into the race for the Top 5… And in the words of the French manager "LARRIEU is faster than BELLINO" during his tests. A big score in the Juniors with podiums and victories possible for the official Husaberg rider.
– Luis OLIVEIRA (P – Yam): The Portuguese rider landed in the Junior category after two brilliant years in the FIM Youth Cup 125cc category. OLIVEIRA should continue his progress in a class more provided than in 125cc and where he will try to assert himself.
– The South American Oscar BETHANCOURTH (GTM – Gas Gas) and Diego ROJAS (CL – Gas Gas) will discover the EWC and will judge their level against the Europeans…
– The French Ludovic RAHAL (HM Honda) and Jeremy CARPENTIER (HM Honda) should aim to improve with the support of Michel MEREL Team, a former Dakariste!
– Mitcham HARPER (AUS – Honda), Martin LARSSON (S – Husaberg) and Nicola PICCININI (I – Yam) who have already participated in several Grand Prix and will be able to score points on some days!
A MCCANNEY – BRESOLIN duel in the FIM Youth Cup 125cc?
After Giacomo REDONDI's title last year and his passage to Junior, the FIM Youth Cup 125cc seems to be much more open and some riders seem to stand out…
Indeed, Matteo BRESOLIN (I – KTM) and Jamie MCCANNEY (GB – Husaberg) are favourites who could succeed REDONDI. They will however, have to watch out for Chilean Benjamin HERRERA (TM), who should make the full season or Albin ELOWSON (S – Husaberg) and Davide SORECA (I – Yam)…
Finally, Jeremy MIRROR (F – Yam), Jesper BORJESSON(S – Husaberg), Nicolo BRUSCHI (I – Yam), Luca GARELLO (F – HM Honda), Esteban LANZ (CL – Gas Gas),Andrea MANARIN (I – Suzuki), Henrique NOGUEIRA (P – TM) and Nicholas TRAININI (I – Husaberg) are classified as possible outsiders…
With an average of nearly 50 riders committed in every race the Junior category promises a thrilling spectacle throughout the season and brings freshness and new talent to the EWC… However, whoever identifies the person who will be able to succeed to Mathias BELLINO is clever indeed, although several riders (ROMAN, REDONDI, MANZI, KVARNSTROM, MCCANNEY…) seem better equipped to succeed in C. GUERRERO, LJUNGGREN, OLDRATI, MENA, SANTOLINO, JOLY… that preceded the charts and became "senior" riders and members of official teams are now fighting for major titles in E1, E2 and E3.
It is the dream of the Juniors, all aged under 23 who are struggling with impatience for battle.
The Juniors Champion since 2005
2012: BELLINO (Husaberg – France)
2011: JOLY (Honda – France)
2010: SANTOLINO (KTM – Spain)
2009: MENA (Husaberg – Spain)
2008: OLDRATI (KTM – Italy)
2007: LJUNGGREN (Husaberg – Sweden)
2006: LJUNGGREN (Husaberg – Sweden)
2005: GUERRERO (GAS GAS – Spain)
The FIM Youth Cup 125cc Winners since 2009
2012: REDONDI (KTM – Italy)
2011: MANZI (KTM – Italy)
2010: ROMAN (KTM – Spain)
2009: DUMONTIER (Husqvarna – France)