Video dag 1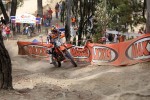 Dominated by dry and dusty conditions, the opening round of the 2013 FIM Maxxis Enduro World Championship got off to a spectacular start in Talca, Chile.
Of the world's best enduro riders it was KTM's Antoine Meo and Husaberg's Pela Renet and Joakim Ljunggren that claimed victory in the Enduro 1, Enduro 2 and Enduro 3 classes. In the Enduro Junior category, Italy's Giacomo Redondi (KTM) topped the standings' while Benjamin Herrera (TM) gave Chile reason to celebrate by winning the Enduro Youth Cup class.
In the Enduro 1 class, defending champion Meo got his season off to a perfect start by securing victory on day one. Facing an early challenge from Finland's Juha Salminen (Husqvarna), the KTM rider gradually extended his lead as the day progressed to take an eventual 28-second margin of victory.
"I'm really happy to win day one in Chile," commented Meo. "I just tried to ride smooth and make no mistakes. In the end it all worked out for me to win."
Although providing an early challenge to Meo, Salminen was unable to maintain his fast pace as the day progressed and had to settle for the runner-up position. Following a costly crash on the opening extreme test, Finland's Matti Seistola (Husqvarna) battled hard all day to recover from his mistake and ended the day in third.
Finishing just four seconds behind Seistola, France's Jeremy Joly (Honda) was fourth with Yamaha's Nicolas Deparrois rounding out the top five.
In the Enduro 2 class, Renet held off KTM's Johnny Aubert to take the win. With Aubert winning each of the day's three cross tests, Renet fought back by setting impressive times in the enduro test to secure a four-second win.
"It was a tough fight all day with Aubert," remarked Renet. "He was quicker than me in the cross test but I was able to find some good lines in the enduro test to take the win."
Narrowly missing out on the first victory of the season, Aubert was forced to settle for second. By setting the fastest time in the day's final extreme test Italy's Alex Salvini (Honda) finished on the third step of the podium. Engaged in a daylong battle with Spain's Ivan Cervantes (KTM), Salvini capitalised on a mistake by the Spaniard to finish third.
Placing less than three seconds behind Salvini, Cervantes ended his day fourth, with Britain's David Knight (Honda) rounding out the top five.
Taking his first race win since the snow covered GP of Sweden in 2009, Husaberg's Joakim Ljunggren won theEnduro 3 category. Feeling comfortable in the dry and dusty terrain, the Swede topped three of the day's ten special tests to secure victory.
"I'm so happy to have won," told Ljunggren following the podium celebrations. "After a couple of difficult races in the SuperEnduro series, I'm delighted to have started the EWC so strongly by winning."
Although claiming four special test wins, France's Christophe Nambotin (KTM) was hampered by numerous crashes and had to be content with second position. Ending his day over 40 seconds behind Nambotin, Estonia's Aigar Leok (TM)completed the podium with third place.
After more than one-hour of special test racing, France'sRodrig Thain (Gas Gas) placed less than six tenths of a second behind Leok to finish fourth. Portugal's Luis Correia (Beta) rounded out the top five.
In the Enduro Junior class, it was the 2012 Enduro Youth Cup champion Redondi that took the win. Britain's Danny McCanney (Gas Gas) finished as runner-up to Redondi with Sweden's Robert Kvarnstrom (Beta) ending his day in third.
France's Loic Larrieu (Husaberg) claimed fourth with Australia's Matthew Phillips (Husqvarna) taking fifth.
Local favourite Benjamin Herrera (TM) secured victory in the Enduro Youth Cup class. Britain's Jamie McCanney (Husaberg)and Portugal's Henrique Nogueira (TM) completed the top three.
The EWC GP Acerbis of Chile continues with day two on Sunday, March 17.