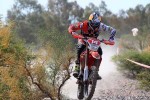 While the month of April is full of National Championships, let's have a quick view class by class of the South American tour. After the E1 class, now let's go for the Enduro 2…
Up With three wins on four possible, Alex SALVINI (I – HM Honda) has surprised but also convinced in South America! He is the biggest surprise of this start of season in the "Prestige" class of the Championship and the fans are now dreaming of the comeback of the Italian Enduro!
After a discrete last year in Junior, Victor GUERRERO (E – KTM) has impressed everybody with his speed and his fighting spirit. He is the first of the outsiders behind the "Top 5".
RENET, CERVANTES, AUBERT… Under pressure.
Stable Pierre-Alexandre RENET (F – Husaberg), Ivan CERVANTES (E – KTM), Johnny AUBERT (F – KTM) and in another way David KNIGHT (GB – Honda) did well during this South American tour… But they will have to step up during the Spain/Portugal tour to bring back the astonishing SALVINI to reality!
Antoine BASSET (F – Yam) is still discrete but effective in this E2 class.
Down We were waiting more from Oriol MENA (E – Husaberg) who seems to have some adaptation difficulties with the "small" Husaberg after two seasons in Enduro 3.
Same comment for his compatriot Lorenzo SANTOLINO (HVA) who's arriving from the Enduro 1 class.
For Oscar BALLETTI (I – KTM), he was really far from his 2012 performance that permitted him to score a podium in Chile.
On his side, the ex-Junior Alexandre QUEYREYRE (F – Yam) is making his debuts in the "best" class.