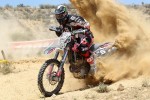 Ivan CERVANTES (KTM) secured his first win of the 2013 Maxxis Enduro World Championshipwith victory in the Enduro 2 class on day one at the GP AMV Seguros of Spain in Puerto Lumbreras.
Husqvarna's Matti SEISTOLA was the surprise winner in the Enduro 1 class while KTM'sChristophe NAMBOTIN recorded his third win of the year in the Enduro 3 category. Matt PHILLIPS (Husqvarna) claimed his second win of the season in the Enduro Junior class while Spain's Laia SANZ (KTM) won the opening round of the Women's Cup championship.
Hot sunny weather combined with hard, rocky and dusty terrain ensured a tough start to the third round of the Enduro World Championship in Spain. Proving the most critical special test of the day, the Extreme Test caught numerous riders off guard as the steep uphill climb stopped many riders in their tracks.
In the Enduro 3 category KTM's Christophe NAMBOTIN enjoyed a mistake free day to claim victory on day one. Despite suffering discomfort from his recently broken finger, the Frenchman marched ahead to a 44-second margin of victory. "I really enjoyed today," confirmed NAMBOTIN. "The climbs on the extreme test were becoming increasingly difficult so I just tried to ride within my limit and make no mistakes. It's great to have won." Behind the KTM rider the battle for the runner-up position was fought out between Italy's Manuel MONNI (KTM), Estonia's Aigar LEOK (TM) and Sweden's Joakim LJUNGGREN (Husaberg). Gaining the upper hand on his rivals, MONNIsecured the second position to claim his best ever rest in EWC competition. Although crashing midway through the event, LEOK fought his way to the finish and ended his day on the podium with third place. With LJUNGGREN forced to settle for fourth position, Portugal's Luis CORREIA (Beta) placed just two seconds behind the Husaberg rider to complete the top five.
In the Enduro 1 class it was SEISTOLA that secured an upset win. Capitalising on early mistakes by his teammate Juha SALMINEN and France's Antoine MEO (KTM), the Finn held off Eero REMES (TM) to secure his first race win since 2011. "I'm so happy to have won – it's amazing," toldSEISTOLA. "When Meo and Salminen made mistakes early on I did my best to capitalise on it. I fought my way into the lead and just tried to ride as hard as I could without crashing. It's been a brilliant day." Although leading midway through the day, REMES was unable to hold off the attack from SEISTOLA and slipped back to second position. Placing less than two seconds behind REMESin third position, Spain's Cristobal GUERRERO (KTM) proved that he's fully recovered from his shoulder injury that plagued him during the opening rounds of the season in South America. Unable to recover from his mistakes on lap one, SALMINEN ended his day in fourth. Crashing heavily on the opening enduro test MEO worked hard to recover from his mistake to end his day in fifth.
In the Enduro 2 category it was the turn of Ivan CERVANTES to top the podium. Feeling confident in the terrain and with the support of his home crowd behind him, the Spaniard took a well-deserved victory."It was a tough day," commented CERVANTES. "Many riders made a lot of mistakes but I was lucky not to. I rode within my limits and thankfully was able to win. It's brilliant to have won in Spain and I want to thank KTM for their faith in me this season. Hopefully there will be more to come." Although leading early on, Italy's Alex SALVINI (Honda) got caught out on some of the tricky climbs. Losing time to the charging CERVANTES, he placed as runner-up to the Spaniard. Struggling to find his rhythm during the opening lap, France's Johnny AUBERT (KTM) slowly worked his way into contention. Benefitting from a serious mistake by Pela RENET (Husaberg) on the final lap, AUBERT finished in third place. For RENET, day one in Spain ended in disaster. Getting stuck on the fourth and final extreme test, the Frenchman was forced to take a second attempt at the uphill climb. Losing over 50 seconds in the process, RENET fell back to fourth position. Spain'sOriol MENA (Husaberg) rounded out the top five.
In the Enduro Junior class, Australia's Matt PHILLIPS (Husqvarna) secured his second victory of the season. Leading the way during the majority of the day, PHILLIPS claimed a comfortable 27-second margin of victory. Despite crashing in the final test of the day, Spain's Mario ROMAN (Husaberg) ended his day as runner-up to PHILLIPS with Italy's Giacomo REDONDI (KTM)placing third overall. Britain's Danny MCCANNEY (Gas Gas) was fourth with Italy's Nicolo MORI (Beta) completing the top five. In the Enduro Youth Cup class, Manxman Jamie MCCANNEY (Husaberg) recorded his third win of the season with victory on day one in Spain. Sweden's Albin ELOWSON (Husaberg) was second with Italy's Matteo BRESOLIN (KTM) rounding out the top three.
Spain's Laia SANZ (KTM) ensured a winning start to her defence of the Women's Cup championship with victory on day one. Behind her Britain's Jane DANIELS (Husaberg) held off France's Juliette BERREZ (Yamaha) to claim second position. Australia's Jessica GARDINER (Sherco) ended her day in fourth. France's Audrey ROSSAT (KTM) rounded out the top five.