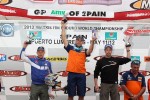 Home favourite Ivan CERVANTES (KTM) brought the Maxxis FIM Enduro World Championship GPAMV Seguros of Spain to an exciting close with the Enduro 2 class victory on day two. France'sAntoine MEO (KTM) recovered strongly from his disappointment of day one to win the Enduro 1 category while his compatriot Christophe NAMBOTIN (KTM) secured his second win of the weekend in the Enduro 3 class. Adding extra spice to the GP of Spain in Puerto Lumbreras, Spain's queen of enduro Laia SANZ (KTM) claimed her second victory in the Women's Cup category.
Continuing from where he left off on day one, NAMBOTIN was again the rider to beat in E3. Fast, smooth and mistake free throughout the majority of the day, the Frenchman secured his second win of the weekend. "I'm so happy to have won both days here in Spain," confirmed a pleasedNAMBOTIN. "It was a tough race with nowhere to rest. I pushed hard in the morning and opened up a good lead that I was able to control until the end of the day. It's been a fantastic weekend for me."Behind him, Sweden's Joakim LJUNGGREN (Husaberg) improved on his fourth pace result from day one to finish as the runner-up behind his French rival. Despite riding in severe discomfort due to his crash on day one, Estonia's Aigar LEOK (TM) gritted his teeth to secure a well-earned third position.  Recording his first top five result of the season, the 2012 Enduro Junior World ChampionMathias BELLINO (Husaberg) ended his day in fourth place. Portugal's Luis CORREIA (Beta)capped of a strong showing in Spain to take his second fifth place result of the weekend.
Great double for Christophe NAMBOTIN who seems better physically
In the Enduro 1 class, MEO bounced back from his fifth place result on day one to win day two. Topping the opening three special tests of the morning, the KTM rider then controlled his speed to claim his fifth win of the season. "Day one was tough – I crashed too many times," commented MEO. "I needed to win day two and regain some of the points I lost. I pushed hard in the morning and then kept an eye on my times and rode safe to win." Proving fast and consistent in the extremely dry and powdery terrain, Finland's Eero REMES (TM) finished just 17 seconds behind MEO to secure the runner-up result and his second podium finish of the weekend. Struggling to find his rhythm in the difficult conditions Finland's Juha SALMINEN (Husqvarna) ended his day in third position. Spain'sCristobal GUERRERO (KTM) placed just three seconds behind Salminen to finish fourth while day one winner Finland's Matti SEISTOLA (Husqvarna) completed the top five.
Delivering another perfect day of riding, CERVANTES claimed his second win of the weekend in E2. Setting the fastest time on the first extreme test, the Spaniard pushed hard in the extremely rutted special tests to hold off Italy's Alex SALVINI (Honda) for the victory. "This has been an incredible weekend for me," told a delighted CERVANTES. "I am ecstatic to have won both days in Spain. Winning day one gave me the belief that I could do it again – today I was not going to let anyone beat me." Although setting the fastest time in the final enduro test, SALVINI was unable to close the gap to his KTM rival and had to be content with second place. Making amends for his mistake on day one, France's Pela RENET (Husaberg) ended his day just six seconds behind SALVINI to secure the third step of the podium. France's Johnny AUBERT (KTM) placed fourth with Spain'sOriol MENA (Husaberg) rounding out the top five.
In the Enduro Junior class Australia's Matt PHILLIPS (Husqvarna) fended off a final lap charge from Italy's Giacomo REDONDI (KTM) to take his second win of the weekend. WithRedondi finishing as runner-up to Phillips, Spain'sMario ROMAN (Husaberg) ended his day just three seconds behind the Italian in third. Manxman Danny MCCANNEY (Gas Gas) was fourth with Sweden's Robert KVARNSTROM (Beta) completing the top five. In the Enduro Youth Cup Manxman Jamie MCCANNEY (Husaberg) topped seven of the day's 12 special tests to win day two. Sweden's Albin ELOWSON (Husaberg) finished in second position with Italy's Dawid CIUCCI (KTM) rounding out the top three.
Taking her second win of the weekend, Laia SANZ (KTM) comfortably topped the Women's Cupclass. Australia's Jessica GARDINER (Sherco) capitalised on a crash by Britain's Jane DANIELS (Husaberg) on the final enduro test to finish second. With Daniels third, France's Juliette BERREZ (Yamaha) finished fourth while Australia's Jemma WILSON (Honda) rounded out the top five.
The Maxxis FIM Enduro World Championship continues with the GP Cross Pro of Portugal inTorres Vedras on May 18/19.