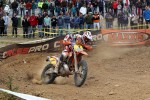 France's Christophe NAMBOTIN (KTM) secured his second win of the Maxxis Enduro World Championship GP Cross Pro of Portugal with victory in the Enduro 3 class on day two in Torres Vedras. Italy's Alex SALVINI (Honda) ended his weekend of racing on a high by topping the Enduro 2 category while France's Antoine MEO (KTM) capped off a perfect weekend with his second Enduro 1 class victory. After her stunning win in the Women's Enduro X race at X Games Barcelona, Spain's Laia SANZ (KTM) returned to EWC competition for day two in Portugal and claimed a comfortable win in the Women's Cup category.
Topping the first two special tests of the day in E1, MEO began day two in a determined mood. Maintaining his strong pace throughout the day, the Frenchman continued to extend his lead and secured his seventh victory of the season. "I started strong and just tried to build on it throughout the day," confirmed MEO. "Today was the beginning of the second half of the championship and I knew it was important to win. I've gained some important points in Portugal and I hope to keep improving at the next round in Romania." Behind MEO the battle for the runner-up result was fought out between France's Antony BOISSIERE (Sherco) and Finland's Matti SEISTOLA (Husqvarna). Crashing on the penultimate cross test, SEISTOLA handed a sizable advantage to BOISSIEREthat helped him to secure his debut EWC podium result with second overall. Placing just seven tenths of a second behind the Sherco rider, SEISTOLA completed the third step of the podium. Italy's Thomas OLDRATI (Husaberg) finished just two seconds behind SEISTOLA to place fourth with Finland's Eero REMES (TM) a further three seconds behind in fifth.
Feeling extremely confident in the terrain, SALVINI delivered a dominant performance in the highly competitive E2 class to win day two. Posting the fastest time in seven of the day's 12 special tests, the Italian claimed a 38-second margin of victory. "It been perfect weekend for me," told a pleasedSALVINI. "I really enjoyed these special tests and felt so comfortable on the bike. Winning in Portugal was important to prove that I could win in Europe and challenge for the E2 world title." Unable to match the pace set by Salvini, Spain's Ivan CERVANTES (KTM) was forced to settle for second position. Improving on his previous day's result of fourth, France's Pela RENET (Husaberg) completed the top three. Placing just eight seconds behind his fellow compatriot, KTM's Johnny AUBERT ended his day in fourth. Spain's Victor GUERRERO (KTM) rounded out the top five.
Proving that he's now back to full speed, NAMBOTIN delivered an incredible display of riding to win the Enduro 3 class while also topping the unofficial outright classification. Setting the fastest time in all of the day's 12 special tests, the Frenchman topped his class by over 57 seconds. "It's been an incredible day for me," commented NAMBOTIN. "After my problems during the early part of the year I now feel like my normal self. It's been fantastic to win the E3 class but also the outright classification. I'm looking forward to the next round of the season in Romania." Claiming his first podium result of the season, France's Mathias BELLINO (Husaberg) placed as runner-up to NAMBOTIN. Portugal'sLuis CORREIA (Beta) ended his home race on a high by finishing third overall. Italy's Manuel MONNI (KTM) ended his day in fourth with Estonia's Aigar LEOK (TM) placing fifth despite a costly crash on the third enduro test.
Repeating his winning result from day one, Australia's Matt PHILLIPS (Husqvarna) secured his fourth consecutive victory of the season in theEnduro Junior class. Italy's Giacomo REDONDI (KTM) improved on his fifth position from day one to place as runner-up to PHILLIPS. Ending his day less than six seconds behind REDONDI, France's Loic LARRIEU (Husaberg) completed the top three. Portugal's Luis OLIVEIRA (Yamaha) was fourth with Spain's Mario ROMAN (Husaberg) rounding out the top five. In the Enduro Youth Cup class, Manxman Jamie MCCANNEY (Husaberg) secured his second win of the weekend. Sweden's Albin ELOWSON (Husaberg) placed as runner-up with Italy'sDawid CIUCCI (KTM) rounding out the top three.
In the Women's Cup class, SANZ produced an impressive display of riding to secure her class win by almost three minutes. Behind her Australia's Jessica GARDINER (Sherco) ended her day in second position with France's Geraldine FOURNEL (Husaberg) rounding out the top three.
The Maxxis Enduro World Championship continues with round five, the GP of Romania on June 15/16.