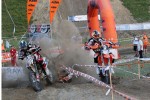 It is in the warm Romanian evening and in front of nearly 4,000 spectators that the stars of the EWC have started the Grand Prix of Romania and attacked the KTM Super Test… And once again, the protagonists have amazed the Romanian public with their talent!
Technical and long, the KTM Super Test assured maximum performance and some riders have lost precious seconds for the races to victory and podium … Tomorrow, the day will look even more intense!
After two hours and a half of race, the Finnish Matti SEISTOLA (FIN – HVA) won with a huge time2'44"76. After an outstanding end, the HVA rider won the bid for a small hundredth ahead ofJohnny AUBERT (FRA – KTM) who was in really good fit and believed to the victory until the last duels (2'44"77). Fantastic Italian Alex SALVINI (I – HM Honda) hang the third fastest time (2'44"87) and will start tomorrow with a lead of six seconds on his rival Ivan CERVANTES (ESP – KTM), 2'50"07.
Note that Christophe NAMBOTIN (FRA – KTM) won the Enduro 3 class, beating the 2012 Junior World Champion Mathias BELLINO (F – Husaberg), while Matthew PHILLIPS (AUS – HVA),Jamie MCCANNEY (GB – Husaberg) and Laïa SANZ (E – Honda) have set the best time in their respective categories.
Appointment is made for 9:00 tomorrow morning for the first day of racing in the Grand Prix of Romania that already start amazingly!