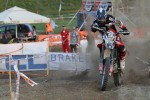 Only a week after a really great Grand Prix of Romania, the caravan of the Maxxis FIM Enduro World Championship took the direction of Greece for the sixth and penultimate Grand Prix of the season…

Greece is a country accustomed to Enduro with its landscapes and different types of grounds breeding for the discipline. This season, CEN, chaired by Jean-Guillaume MEILLER, has entrusted the Off Road Special Projects Team, led by Nick ZOURNATZIS, and AMOTOE (Greek Federation) the daunting task of organizing this Greek round, two years after the last that took place in the brilliant Kalampaka. But it's not the first feat of arms of the Off Road Team Special Projects in motorsport and Enduro. Indeed, the Moto Club is the traditional organizer of Rally of Greece and many Rally Raid…
A passionate club

Nick ZOURNATZIS and the Off Road Team Special Projects of Dimitris ATHANASSOULOPOULOS, with the help of Gio SALA (Race Inspector), has drawn a track of 50 km that riders will race four times during the two days of racing and with two time checks. The paddock will be located in front of the prefecture of Kastoria, at the entrance of the city. TheEnduro Test and the Cross Test will be at Psalika mnt. The artificial Xtreme test will, on its side, be located in Leoforos Kiknon, just 600 meters from the paddock, and will have a length of about 2 km. For its part, the KTM Super Test will be held on Friday, May 21st at the site of the Xtreme Test. Note that the terrain is very rocky, with many portions of forest. The difficulty of the race will also depend a lot on the weather…
Kastoria is located in the Northwest of Greece. It is the capital of the prefecture of Kastoria and is located on the west coast of the beautiful Orestiada Lake. This charming city, with more than 16,000 inhabitants, is an important religious center for the Greek Orthodox Church. It contains nearly fifty-four Byzantine and medieval churches. Kastoria is 190 kilometers west of Thessalonikiand more than 484 kilometers north of the capital: Athens… and 60 kilometers from Albania.
NAMBOTIN and MEO already Champions?
After the new bad performance of Joakim LJUNGGREN (S – Husaberg) in Romania, and an injured Aigar LEOK (EST – TM)who has again lost points while the 2012 Junior World ChampionMathias BELLINO (F – Husaberg) is still inserted on the podium, it doesn't lack points to Christophe NAMBOTIN (F – KTM) to hang a second world title in a row. With 45 units ahead of the official TM, current second, the French should, except problem, be titrated from Sunday evening. Of course, LEOK and LJUNGGRENwill fight with the energy of despair, but it seems inconceivable that the Swedish and Estonian can at least delay the onset ofNambot '. Especially now since BELLINO seems to be the most serious rival to the official KTM what should help a lot the last called. In addition, other riders like Luis CORREIA (P – Beta),Deny PHILIPPAERTS (I – Beta) or Fabien PLANET (FRA – Sherco) have the talent to play the Top 5 and insert between the three protagonists while Manuel MONNI (I-KTM) injured in Romania will not be present.
Same story in Enduro 1 where, although Juha SALMINEN (FIN – HVA) poses many problems to Antoine MEO (FRA – KTM), the KTM rider records 41 points ahead of the Eightfold World Champion. As his teammate NAMBOTIN in E3, the French should be titrated from Sunday evening if he doesn't have any mechanical or physical glitch. It would be his fourth consecutive title. The goal for his most serious rival Juha SALMINEN will be to finish ahead of the French to force him to play a title at the final Grand Prix of the season with all the pressure that entails. To do so, the official HVA should be supported by his fellow Matti SEISTOLA (HVA) yet seriously injured on his foot in Romania and Eero REMES (SF – TM) while MEO will be helped by teammate Cristobal GUERRERO (E) who seems to return at his best. Nicolas DEPARROIS (FRA – Yam) leader of the Greek INA TV Team feels a bit like "home" and will lay spoilsport. Note thatThomas OLDRATI (I – Husaberg) will not be present after his shoulder injury incurred in Romania.
PHILLIPS in the footsteps of MERRIMAN?
In the last Senior category (Enduro 2), we should not attend a coronation for this weekend … unless Johnny AUBERT (FRA – KTM), Pierre-Alexandre RENET (F – Husaberg) and Ivan CERVANTES (ESP – KTM) collapsed completely, leaving the way open for Alex SALVINI (I – HM Honda). But the probability is very low. In any case, the official HM Honda will aim to build on his lead in the standings (26 points ahead of CERVANTES) while his three rivals will seek to push him to the fault before the final in France. But both French and Spanish have much to do as the Italian poster serenity foolproof. David KNIGHT (GB – Honda) back to Great Britain to recover from his wayward wrist, Spanish trio Victor GUERRERO (ESP – KTM), Lorenzo SANTOLINO (HVA), Oriol MENA (Husaberg) will host the Grand Prix for the last place Top 5 while Antoine BASSET (F – Yam) should be very vindictive after a lackluster Grand Prix Romania.
In the Juniors, Matthew PHILLIPS (AUS – HVA) now has 28 points ahead of his nearest rivalGiacomo REDONDI (I – KTM). This means that he lacks only 12 points to be titled the same day as the duo E1 – E3. But in the very dense under 23category, this seems an elusive goal. WithREDONDI and also Mario ROMAN (E – Husaberg), Danny MCCANNEY (GB – Gas Gas), Loïc LARRIEU (F – Husaberg) or Rudy MORONI (I – KTM) other contenders for victory or a podium,PHILLIPS will have therefore demonstrate mental strength. In FIM Youth Cup 125cc Albin ELOWSON (S – Husaberg) will try to get his first win against New Champion Jamie MCCANNEY (GB – Husaberg). But they will also count with the Italian Dawid CIUCCI (KTM) who is the man of the second days and the Chilean Benjamin HERRERA (TM) solid third in the championship.
With possible coronations from this weekend, the Grand Prix Maxxis of Greece already looks very "show". The paddock of Kastoria should be under pressure throughout the week before may experience moments of joy and jubilation that will enter the history of the EWC. On the sport side, this sixth round promises to be very exciting and no doubt the Off Road Team Special Projects will be implemented for all the wonderful celebration at the beautiful Orestiada Lake, unique island of freshness in Greek furnace…
Information:
–    Kastoria (Prefecture of Kastoria) ;
–    190km West to Thessaloniki ;
–    Friday, June 21st : KTM Super Test : 19.00 ;
–    Saturday 22nd and Sunday 23rd of June : Start : 9.00 and Finish at 16.00 ;
–    Organizer : Off Road Team Special Projects;
–    Web sites : www.enduro-abc.com and www.ewc.gr;
–    Track : 5kms – 4 laps;
–    Free Access ;
–    Airport : Kastoria – Thessaloniki: 190 kilometers.