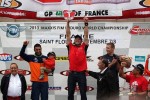 Italy's Alex SALVINI (Honda) and Australia's Matt PHILLIPS (Husqvarna) are crowned world champions on day one at weather disrupted Maxxis Enduro World Championship AMV GP of France in St Flour. Battling their way through a rain-inflicted day, SALVINI and PHILLIPS kept their cool to secure the Enduro 2 and Enduro Junior titles respectively.
For SALVINI day one ended in the best possible way. Claiming the Enduro 2 class win the Honda rider was crowned the 2013 Enduro 2 World champion.  "It's unbelievable to be champion," told an emotional SALVINI. "My focus was on winning the title but to do it by also winning the race is great. When the rain came things got a bit crazy. But I just rode the best I could and thankfully it all worked out – I'm so happy to be the world champion." What started out to be a normal day of racing quickly changed as the race passed the halfway stage. Threatening rain clouds finally broke – resulting in a torrential downpour of rain. Almost immediately the course became impassable in places. With numerous riders left stranded, organisers acted quickly to ensure a result. Stopping the race on Cross Test 4 at the end of lap three, day one came to a premature end.
Leading the Enduro 1 class after Cross Test 4, France's Antoine MEO (KTM) was declared the winner. With the title secured at the previous GP of Greece, MEO opted to contest the race on a KTM 125 EXC. Trailing early pacesetter Jeremy TARROUX (F – Sherco), the KTM rider took control of the lead as the rain began to fall. Holding pace, MEO claimed the E1 class victory. WithTARROUX falling victim to the conditions, he slipped back to sixth. Remaining relatively mistake free, Finland's Eero REMES (TM) steadily improved his position throughout the day to finish as runner-up. Claiming a podium result in his home race, Honda's Jeremy JOLY (F) was third. Missing out on a top three finish, Finland's Juha SALMINEN (Husqvarna) was fourth with his teammateMatti SEISTOLA (FIN) fifth.
With SALVINI winning day one to secure the E2 title, the fight for the remainder of the podium was a tight affair. Putting his vast experience to good use, Spain's Ivan CERVANTES (KTM) ended his day in second. Holding off Husaberg's Pela RENET (F) by six tenths of a second, France's Antoine BASSET (Yamaha) secured his debut EWC podium. Despite setting the pace on the opening lap,RENET fell victim to the changing conditions and dropped to fourth position. Spain's Oriol MENA (Husaberg) rounded out the top five.
Relishing in the mud and rain, France's Christophe NAMBOTIN grew stronger with each test. Despite the day being cut short, the KTM rider still managed to win by an incredible three minutes. "It was tough out there," confirmed NAMBOTIN. "All of a sudden the rain made things incredibly tricky. I tried to ride as smooth and carefully as possible and it worked out. I'm pleased to have won." WithNAMBOTIN clearing off to a convincing victory, Sweden's Joakim LJUNGGREN (Husaberg)collected the runner-up result. Adding to the French delight, Fabien PLANET (Sherco) took third. Securing his best result of the season, Italy's Deny PHILIPPAERTS (Beta) finished fourth with France's Benoit FORTUNATO (Honda) ending his day in a well-earned fifth.
Enjoying the wet conditions and remaining mistake free, Manxman Danny McCANNEY (Gas Gas)finally claimed his first win of the season in the Enduro Junior class. Placing 22-seconds behind him, Australia's Matt PHILLIPS (Husqvarna) ended his day as runner-up to secure the 2013 Enduro Junior World Championship while Italy's Nicolo Mori (Beta) took his first podium result of the season with third. "I'm so happy to have won the Junior world title," told the newly crowned champion PHILLIPS. "It was a weird day. First I was riding tight. I was a little nervous and made a few mistakes. But then it started raining and it became a mission to finish. I'm just glad to have made it back. It's fantastic to be a world champion – this is what I came to Europe to do." Continuing his winning form from the GP of Greece, Sweden's Albin ELOWSON (Husaberg) best mastered the mud to win the 125 Youth class. In the fight for the final steps of the podium, France's Jeremy MIROIR (Yamaha) and Italy's Davide SORECA (Yamaha) placed second and third respectively.
In the Women's class the day belonged to Britain's Jane DANIELS (Husaberg). Claiming a 10-second margin of victory over Spain's Laia SANZ (Honda), DANIELS secured her debut EWC win. Losing out, SANZ ended her day as runner-up with France's Geraldine FOURNEL (Husaberg)completing the top three.