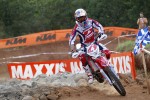 AUBERT – SALVINI are looking for revenge!
In front of nearly 2,000 spectators totally committed to their cause, the stars of the EWC have provided two hours of intense show during the very first stage of the Grand Prix Maxxis of Greece.
Alternately, Alessandro BATTIG (I – Honda), Matthew PHILLIPS (AUS – HVA), Mathias BELLINO (F – Husqvarna), Deny PHILIPPAERTS (I – Beta) and Nicolas DEPARROIS (F – Honda) posted a series of scrubs to the delight of fans present for the occasion.
On the result side, after a mad duel, Johnny AUBERT (F – Beta) and Alex SALVINI (I – Honda) were unable to decide and gather the laurels of this opening special test of the weekend with a stratospheric time of 2'15"10. This result is showing a lot the desire to reverse the trend of the E2 class of the Italian and French in Kalambaka.
The double World Champion Christophe NAMBOTIN (F – KTM) catches the third fastest time (2'15"91) and wowed the audience with his serenity riding style. The KTM rider scored at the same time the best time in his category (E1).
Note that Mathias BELLINO (FRA – HVA) won the Enduro 3 ahead of a very serious and concentrate Ivan CERVANTES (ESP – KTM) while Danny MCCANNEY (GB – Beta) and Davide SORECA (I – Yam) won their respective categories.
The riders of the World Enduro Championship have already given appointment to the Greek public tomorrow morning at 9:00 for the first day of the Grand Prix Maxxis of Greece that has already gone on a frantic pace!