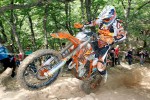 USWE supported riders continue to excel in the Enduro World Championship, winning at a hot, dry and challenging GP of Greece in Kalambaka.
Maintaining his excellent run of form in the Enduro 1 class, Frenchman Christophe Nambotin further extended his championship lead in Greece. Comfortably winning day one, the former Enduro 3 champion made several mistakes on day two, but still placed as runner-up.
Disappointed to suffer a costly exclusion following a tyre issue at the end of day one, Eero Remes made amends for his non-score by securing his first race win since 2012 on day two. Leading from the off, Remes kept Nambotin at bay on the final lap to claim the top step of the podium.
In the Enduro 2 class Pela Renet recorded another race win. Starting day one in third position, Renet found a way past early pacesetter Johnny Aubert to win. Hopeful of repeating the result on day two, Renet was unable to find his groove and despite his best efforts placed second.
The GP of Greece was an up and down one for Johnny Aubert. Leading day one, Aubert was unable to remain fixed at the head of the class and slipped back to fourth. Improving one position on day two, he claimed a podium result with third.
In the Enduro 3 class, Ivan Cervantes maintained his championship lead. Working his way from fifth position, the Spaniard recorded a well-earned victory on day one. Pushing hard on day two Cervantes injured his ankle as the day neared its close. In obvious discomfort he soldiered on to take second.
Continuing to improve in E3, Aigar Leok bettered his day one result of seventh with sixth on day two.
In the Enduro Junior class, Danny McCanney saw his win streak come to an end. Uncomfortable with the terrain, McCanney gave it his best shot to win day one but lost out when he crashed on the final special test and finished second. A bad start to day two left him unable to place any higher than third.
The FIM Enduro World Championship continues with round four in Finland on June 7/8.
Christophe Nambotin (Enduro 1 – KTM): "I started day one badly start. I crashed a lot and lacked a good feeling with the bike. I changed a few things for the last lap and instantly it was better but by then it was too late. Second is still great for the championship and combined with my win from day one it's still been a very good weekend for me."
Pela Renet (Enduro 2 – Husqvarna): "Obviously winning on the first day was great. I rode well and took advantage of mistakes others were making. It was close at the end of the day, with only a few seconds between us, so I was very happy to win. I really pushed to the limit. I can't explain why I didn't feel as good on day two as I did on day one, but it was like that for me. I had a few problems at the start of the day, but I came back a little and managed to finish second."
Ivan Cervantes (Enduro 3 – KTM): "Opening the race was hard. The Enduro test was difficult to read the lines in the forest. Day one started ok but I improved my times and stayed clear of mistakes to win. I think that was the key to winning day one. I hurt my ankle on day two and just rode my best to finish. Second is ok."
Danny McCanney (Enduro Junior – Beta): "I had a few good tests here and there but sort of struggled with the terrain – it wasn't really my sort of thing. Despite that I was just about hanging on to the EJ lead on day one. But on the final test I had a pretty big crash and threw the win away. Day two just started bad – I couldn't find any sort of pace to match Giacomo. It was a weird event – you either loved the going or you hated it. It's a bit annoying not to win and then on day two finish third but on the positive I'm still on the podium even with a bad day."
Championship Standings (After Rnd 3)
Enduro 1
1. Christophe Nambotin (KTM) 117pts; 2. Cristobal Guerrero (KTM) 88; 3. Eero Remes (TM) 80…
Enduro 2
1. Antoine Meo (KTM) 114pts; 2. Pela Renet (Husqvarna) 106; 3. Johnny Aubert (Beta) 86…
Enduro 3
1. Ivan Cervantes (KTM) 117pts; 2. Matt Phillips (KTM) 99; 3. Mathias Bellino (Husqvarna) 83… Enduro Junior
1. Daniel McCanney (Beta) 112pts; 2. Giacomo Redondi (Beta) 106; 3. Loic Larrieu (Husqvarna) 92…
125 Youth Cup
1. Davide Soreca (Yamaha) 105pts; 2. Jeremy Miroir (Yamaha) 76; 3. Nicolas Pellegrinelli (KTM) 72…