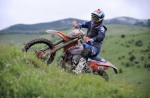 The first day at the second round of the Enduro European Championship (EEC) in Bacau / Romania was a battle against water and mud: It was two days raining non-stop – but at the same moment the first riders started, the rain stopped! This was the situation like an home-advantage for the british riders: So Tom Sagar wonn six of seven tests in the overall in front of Maurizio Micheluz. The italien is the reigning champion with his Suzuki – and was in front of the next britisch rider Jamie Lewis.
Micheluz won his E1-Class in front of an other "brit", the Husqvarna-rider Jack Rowland and the swiss Jonathan Rosse.
As a winner overall Sagar wonn his E2-Class too. With more than one minute in front of his compatriot Lewis and the Swedish Martin Sundin.
In the E3-Class the strong Italian rider Jacopo Cerutti took the lead from french Jagu Julien and the german Marco Neubert.
Reigning Veterans-champion Werner Müller from Austria won with more than one minute advance in front of the french Laurent Pannetier.
In the Women-Class the french Audrey Rossat took her third victory in a row.
Further informations you can find on our website www.FIM-Enduro-european-championship.com – including the actual Live-Timing!