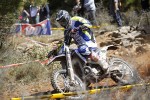 In the country of legends… Only a month after the Grand Prix Maxxis of Greece, the Maxxis FIM Enduro World Championship heads to Finland, more precisely to Heinola for the fourth round of the season and the first race of the two-event Scandinavian tour.
Two years later!
After Heinola in 2012 and the ISDE in 2011, Finland returns to the EWC series where Suomen Moottoriliitto ry (SML) has decided, with the approval of the Federation International of Motorcycling (FIM), to give the honor of hosting this event to Heinolan Moottorikerho ry, two years after its second organisation on the EWC. Indeed, this Moto Club, chaired by Henri SAARI, organised already rounds in Heinola in 2005 and 2012. This club is very experienced as it is also the origin of multiple rounds of Motocross World Championship (1992, 1994, 1996, 1998 and 2008).
The Heinola Moottorikerho ry drew a 50 km track that racers will tackle four times during the two days of racing with two time controls. The paddock is situated next to the city center of Heinola. The Xtreme Test and the KTM Super Test on Friday evening will be held at Motocross Stadium while the Enduro Test will take place in the forest next to this Stadium. The Cross Test (6 minutes minimum) will be located inLusiin. Note that the terrain is, of course, very sandy.
Heinola, which was founded in 1776, is located in the region of Päijät-Häme. The city covers an area of 835.9 kms2 with 20,735 inhabitants, is situated on a moraine between the lakesRuotsalainen and Konnivesi and near the starting point of the river Kymijoki. The town is surrounded by many municipalities, it is also the border with Kymenlaakso and South Savoni.Heinola is internationally known for being the host city of the World Championships of sauna resistance which takes place every summer since 1998! This city of the Southern-center of Finland is located 140 kilometers north of the capital, Helsinki.
Can REMES win again?
In Enduro 1, although Christophe NAMBOTIN (FRA – KTM) is 29 points ahead and dominates the category, there has been a rider that has stood in front of him. It is the local star Eero REMES (SF – TM). He remains so far the only rider to have stolen a win from the Frenchman this season and arrives at his home race in high spirits. In addition to the TM rider, Jeremy TARROUX (F – Sherco)and Anthony BOISSIERE (F – Sherco) show that they are closer to the podium but they need to be more consistent if they really want to be a serious candidate to the first three places. Fourth man to "hunt" NAMBOTIN,Cristobal GUERRERO (ESP – KTM) has to get back to his best. Enduring a mixed start to the series, the rider many had as the most serious rival to double E3 ChampionNambotin will be gunning for glory in Heinola. For his part, the Catalan Jaume BETRIU (HVA) , very consistent since the beginning of the season, will try to get closer to the Top 5 but he will have to face the attacks of Thomas OLDRATI (I – HVA), Maurizio MICHELUZ (I – Suzuki), Rudi MORONI (I – KTM) and Kevin Rohmer (F – Yam)…
Is Alex SALVINI (I – Honda) sufficiently recovered from his collarbone injury? Will Johnny AUBERT (F – Beta) manage to win a first day? Can Pierre-Alexandre RENET (FRA – HVA) reduce the gap with Antoine MEO (FRA – KTM)? Many questions about the exciting E2 class should be answered in Finland. The KTM rider is still leading by eight points, ahead of the official HVA rider Renet and seeks to make the break in the Special tests of Heinola, where he has been crowned champion in 2012. Despite very slim title hopes, Alex SALVINI will give his all, if he is not too hampered by his shoulder, to prove to the three French riders that he can win days. Behind the quartet, another fight will settle between the three Spaniards Lorenzo SANTOLINO (Sherco), Oriol MENA (Beta) and Jonathan BARRAGAN (HVA) for the final spot in the Top 5.
Will CERVANTES and SALVINI be sufficiently recovered?
Victim of a big ankle injury in the final lap of the second day in Greece, it's Ivan CERVANTES (ESP – KTM) just operated two weeks ago that we will see in Finland. Even if he is 18 points behind his teammate, Matthew Phillips (AUS) continues his rise and seems more able to compete with the Spanish. This will require a very strong mentally and physically "Torito" to face the onslaught of World Junior Champion in 2013. But CERVANTES will also have to keep an eye on Mathias BELLINO (FRA – HVA), currently third in the standings and keeps improving at each Grand Prix,Matti SEISTOLA (SF – Sherco),at home, who's getting closer to the victory, and Luis CORREIA (P – Beta) who is still looking for his first podium in 2014. On his side, Jeremy JOLY (FRA – KTM) will be hard to deal with Aigar LEOK (EST – TM), whose "wake up" is expected, to keep his 6th place. Mean while Antoine BASSET (F – Gas Gas), Fabien PLANET (F – Sherco) and Deny PHILIPPAERTS (I – Beta) will not be gifts in the fight for 8th place.
In the under 23 class, the race for the title is now relaunched as Danny MCCANNEY (GB – Beta), the current leader, has only six points ahead of Giacomo REDONDI (I – Beta) while Loïc LARRIEU (FRA – HVA) remains in ambush. Behind this trio, Nicolo MORI (I – KTM), Alessandro BATTIG (I – Honda), Diogo VENTURA (P – Gas Gas), Jamie MCCANNEY (GB – HVA), Eloi SALSENCH (ESP – KTM) and Rannar UUSNA (EST – KTM) can also claim a place in the Top 5. In FIM Youth Cup 125cc, Jeremy MIRROR (F – YAM), Nicolas PELLEGRINELLI (I – KTM), Michele MARCHELLI (I – KTM), Albin ELOWSON (S – HVA) and Benjamin HERRERA (CL – TM) will have to react if they don't want to see Davide SORECA (I – Yam) flying over in the standings…
Finally, the Women's Cup is back on the occasion of the Grand Prix of Finland and even if Laïa SANZ (E – Honda) is in the lead, the gap is narrowing with her two main rivals Jane DANIELS (GB – HVA) and Jessica GARDINER (AUS – Sherco). Juliette BERREZ (F – Yam), Jemma Wilson (AUS – Yam), Geraldine FOURNEL (F – Sherco) and Samantha TICHET (F – KTM) seek to overturn the hierarchy and provide a first podium while Marita NIQVIST (FIN – Yam) for her Grand Prix will look to finish inside the top five at here home GP.
With all the necessary ingredients, this Grand Prix of Finland, Scandinavian first step, should be a great vintage in a field where the Nordic riders will shine and where the cards could be redistributed! So, appointment on June, 6th, 7th and 8th in Heinola for the 4th Grand Prix of theMaxxis FIM Enduro World Championship where a fanatic public support is expected.
Information:
–    Heinola (Region of Päijät-Häme);
–    140 kilometers North from Helsinki;
–    Friday 6th of June: KTM Super Test: 19.00
–    Saturday 7th and Sunday 8th of June: Start: 9.00 and Finnish at 16.00;
–    Organisation: Heinola Moottorikerho ry;
–    Websites: www.enduro-abc.com and http://www.hemk.net/mm;
–    Track: 50kms – 4 laps;
–    Free Access;
–    Airport: Helsinki (140 kms)