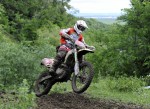 The british rider Tom Sagar became again fastest rider in the overall at the second day of the Enduro-European-Championship in Bacau / Romania: "This weekend the tests have suited me – as most of the britisch riders here," said the KTM-rider. For example direct behind him the Husqvarna-Pilot Jamie Lewis: Not only second in the E2-Class, even in the overall.
The reigning champion Maurizio Micheluz became third, but was able to defend the leadership in the championship. "At this weekend it was most important to keep the distance to the british boys as small as possible," was the conclusion of the Italian, who will revance at the next heat in his home-country.
In his E1-class he took the victory in front british rider Jack Rowland and Jonathan Rosse from Switzerland as the day bevore.
In the E2-class Sagar won in front of Lewis and Robin Nijkamp from the Netherlands.
Very tight became the fight in the E3-class: The Italian Jacopo Cerutti wonn, but before the last test the German Marco Neubert was only two seconds behind him – an was faster in this "Extreme" – but it was only one second and this meant one second in the lead for Cerutti.
Four victories in a row took Werner Müller at the Veterans and Audrey Rossat at the women-class.
Like Rossat more french riders have been successful, special with the juniors:
In the youngest class, with the riders up to 20 years, took Maunel de Delhaye on the TM not only his first first place but also an 14th ranking in the overall – with the small 125 cc bike only.
In the biggest junior-class – was Jeremy Carpentier on his Honda victorious: "It was necessary to make as little mistakes as possible, because it was very slippery in the first lap." By using this tactic, he even finished ninth in the overall!
Further informations, news, standings and fotos you can find on our website www.FIM-Enduro-european-championship.com.