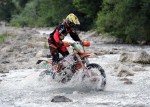 The second day at the third round of the Enduro European Championship (EEC) in Casanova di Staffora / Italy was won by the italian rider Maurizio Micheluz. The reigning champion had a tight fight with his countryman Jacopo Cerutti. The winner of the first day, the Brit Tom Sagar, lost a lot of time already in the first lap, when he had a very hard crash in the Enduro-Test. This for he couldn't reach the two Italians.
The heavy rain at the end of the day doesn't help him too: the last test became very slippery and difficult. The rain started, when the first rider arrived and became more and more.
This is the reason that the 17 year old junior Brad Freeman from England won this test took the second place in the overall! This is, why you find his foto in here – while the junior-classes are starting before the seniors, this KTM-rider found the better grip on the track!
Same procedure as last day: The E1-Class was won by Suzuki-rider Maurizio Micheluz with more than one minute in front of the Swiss Jonathan Rosse on the Yamaha and the British Jack Rowland on the Husqvarna.
Even if he was only 4th in the overall, KTM-rider Tom Sagar won his E2-Class in front of Mirko Gritti from Italy and the British Jamie Lewis. Lewis lost the lead in the championship to Sagar for this reason.
In the E3-class, the Italien Jacopo Cerutti took the victory in front of the French Julien Jagu and Radek Toman fromCzech.
In the veterans-class dominated Werner Müller from Austria both days: At the end, the Champion had more than two minutes advantage in front of Laurent Pannetier from France and the Swiss Robert Kambert.
With another victory the French Audry Rossat took already the European-title in the women-class! The KTM rider has as much point lead that they can not be caught!
Further informations you can find on our website www.FIM-Enduro-european-championship.com – including the actual Live-Timing!