Phillips On Song In Lumezzane
Matt PHILLIPS delivers the goods on Day One of the FIM Maxxis Enduro World Championship GP Acerbis of Italy in Lumezzane. Australia's Matt PHILLIPS (KTM) took a convincing win in the Enduro 3 class on Day One. France's Christophe NAMBOTIN (KTM) edged one step closer to his first Enduro 1 world title with victory, while home favourite Alex SALVINI (Honda) bagged a much deserved race win in the Enduro 2 category.
Taking control of the Enduro 3 class from the opening special test, PHILLIPS was on a mission to win Day One in Lumezzane. Setting the fastest time in the first six of the day's nine tests, PHILLIPS built up a sizeable lead and was never headed. "I'm more than happy with how today's gone," told PHILLIPS. "From the start I did what I needed to do and charged hard to put myself out front. It feels great to have won." Behind PHILLIPS, the fight for the final two steps of the podium was intense. A rejuvenated Aigar LEOK (EST -TM) was enjoying the best performance of his season to date and looked set for the runner-up result until a mistake on the final lap cost him second. Capitalising, Spain's Ivan CERVANTES (KTM) picked up the pieces to claim an important runner-up result. Despite missing out on second, LEOK still recorded his first podium result of the series with third. Four seconds adrift of third, France's Jeremy JOLY (KTM) took fourth while home favourite Simone ALBERGONI (KTM) claimed an impressive top five result.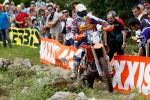 Christophe NAMBOTIN is just one step closer from the title
For Enduro 1 championship leader Christophe NAMBOTIN, Day One in Lumezzane went to plan. Getting out front early on, NAMBOTIN steadily increased his advantage as the day progressed to claim the race win and move one step closer to wrapping up the title tomorrow. "It's been a good day," explained NAMBOTIN. "I rode steady, didn't make mistakes and just made sure I won. Hopefully tomorrow I can claim my first E1 title." With NAMBOTIN running away with things at the front, Sherco's Anthony BOISSIERE (F) and Finland's Eero REMES (TM) battled hard for the runner-up result. Keeping a slight gap over his Finnish rival throughout the day, BOISSIERE placed a well-earned second to NAMBOTIN. Not quite able to get on par with BOISSIERE during the middle part of the day, REMES had to settle for third. Still recovering from a recent elbow injury, Spain's Cristobal GUERRERO (KTM) dug deep to place fourth. Finishing just one-second behind, Italy's Thomas OLDRATI (Husqvarna) completed the top five.
Finally putting a difficult season behind him, defending Enduro 2 champion Alex SALVINI (Honda) recorded his first win of the year and did so on home soil. Fighting his way into the lead at the end of lap one, the Italian kept his nose in front for the remainder of the day to win. "It feels fantastic to win again and it's perfect to do it in Italy," confirmed SALVINI. "It's been a difficult season for me, hopefully this win is the start of something good. I'm excited for tomorrow." Slow to start, France's Pela RENET (Husqvarna) faced a tough fight during the opening half of the day to work his way into second. Upping his pace by winning three of the final four tests, the Husqvarna rider ended his day as runner-up to SALVINI. Claiming a debut podium result in E2, Spain's Lorenzo SANTOLINO (Sherco) was third. In a result that's been building all season, SANTOLINO delivered a consistent ride throughout the day to finish third.  Stepping in last minute to compete, Poland's Taddy BLAZUSIAK (KTM) was impressive. Holding a top three result for the first half of the day, a crash on the second enduro test dropped him down to fifth. Recovering strongly he fought back to fourth. Returning to EWC action following his recent injury, Spain's Oriol MENA (Beta) took fifth.
In the Enduro Junior class the day ended in delight for local man Giacomo REDONDI (I-Beta). Capitalising on a crash by close rival  Daniel MCCANNEY (GB-Beta) on the final test of the day,  REDONDI gladly claimed victory in front of his home crowd. Disappointed with letting a certain race win slip from his grasp, MCCANNEY placed second. Ensuring it was a day to remember for the Italians, Honda's Alessandro BATTIG recorded his debut EWC podium with third. Picking up a one-minute time penalty, France's Loic LARRIEU (Husqvarna) slipped back to fourth while Spain's Eloi SALSENCH (KTM) rounded out the top five. Securing a lockout on the 125 Youth Cup podium, Italy claimed the top three spots. Recording his first win of the season, Michele MARCHELLI (KTM) took the win. David SORECA (Yamaha) picked up a time penalty that dropped him back to second while Matteo BRESOLIN (KTM) ended his day in third. Albin ELOWSON (SWE-Husqvarna) and Benjamin HERRERA (CHL-TM) were fourth and fifth respectively.