Nambotin and Renet Crowned Champions In Italy
The FIM Maxxis Enduro World Championship GP Acerbis of Italy drew to a celebratory close with both Christophe NAMBOTIN and Pela RENET crowned Enduro 1 and Enduro 2 World Champions. With Day Two in Lumezzane greeted with torrential rain and thunderstorms it was in fact bothNAMBOTIN and RENET who weathered the storm best to clinch their respective titles. There was also delight for the home crowd as outgoing Enduro 2 champion Alex SALVINI (Honda) picked up his second victory of the weekend.
With the E1 and E2 titles decided there was relative drama in the Enduro 3 category. After storming his way to victory on day one, championship leader Matt PHILLIPS (AUS-KTM) was dealt a cruel blow on lap one when a piece of metal sliced his boot resulting in a broken foot. Forced out of the race, that threw open the doors for a new winner to emerge. Immediately taking the advantage, Italy's Oscar BALLETTI (KTM) found himself with the race lead and went on to win the day. "This in an incredible result for me," exclaimed the Italian. "It's my first ever in the EWC – I'm so, so happy." Joining the EWC for Lumezzane, former Enduro 3 World Champion David KNIGHT (KTM)also carded a surprise result on day two. Despite not contesting the EWC in almost 12 months –KNIGHT placed a brilliant runner-up to BALLETTI on Day Two. In a close finish to the day, France'sJeremy JOLY (KTM) chased KNIGHT home for third. Securing his best result of the season, Italy'sSimone ALBERGONI (KTM) was fourth. Unable to capitalise on championship rival PHILLIP's shock exit, Spain's Ivan CERVANTES (KTM) ended his day in fifth.
Needing just a handful of points to secure the E1 title, NAMBOTIN didn't have to fight for the victory. But determined to end his weekend on an absolute high he did exactly that. Winning all bar one of the day's nine special tests, the Frenchman ended his day as the winner and world champion. "This is a very special moment for me," told the newly crowned E1 champ. "Racing E1 was a big challenge for me – it was tough – but I always gave 100 per cent effort. To secure the title here in Italy is superb." With NAMBOTIN disappearing off into the distance, Spain's Cristobal GUERREROadded to the KTM celebrations by finishing as runner-up. Claiming his first podium result of the season – and doing so on home turf – Italy's Thomas OLDRATI (Husqvarna) claimed a well-deserved third. Sherco's Jeremy TARROUX (F) picked up fourth with Jaume BETRIU (S-Husqvarna) completing the top five.
In the Enduro 2 class it was Alex SALVINI (Honda) who bagged his second victory of the weekend to cap off a memorable home race. "It's been a perfect weekend," said SALVINI. "Conditions were tough but I kept my focus and did what I needed to do to win. Congratulations also to Pela on winning the title – he's had a great year." Enjoying the best ride of his career, Spain'sLorenzo SANTOLINO (Sherco) built on his previous day's result of third to finish second. Knowing he just needed to finish to secure the title, RENET delivered a championship-winning ride on day two to place third. "No words can describe this moment," declared RENET. "Today was tough with the rain but I just concentrated on racing for the title. It's my second world championship and it's fantastic." Delivering yet another competitive ride in his rare EWC appearance, KTM's Taddy BLAZUSIAK (PL)took fourth with Oriol MENA (S-Beta) one place behind in fifth.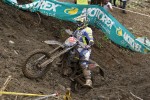 The other nice surprise of the weekend: Lorenzo SANTOLINO
In the Enduro Junior class it was Daniel MCCANNEY's (GB-Beta) turn to climb to the top step of the podium. Edging out his championship rival Giacomo REDONDI (I-Beta) for first, the Manxman denied REDONDI another possible home race win. With REDONDI second, France's Loic LARRIEU (Husqvarna) made no mistakes this time around to place third. Recording a career best result, Great Britain's Jack ROWLAND (Husqvarna) was fourth with Guido CONFORTI (I-KTM) fifth. Securing a runaway victory in the 125 Youth Cup, Italy's Davide SORECA (Yamaha) topped the category by a massive three minutes. Matteo BRESOLIN (I-KTM) improved to take second while Chile's Benjamin HERRERA (TM) completed the top three. Michele MARCHELLI (I-KTM) and Albin ELOWSON (SWE-Husqvarna) were fourth and fifth respectively.
The 2014 FIM Maxxis Enduro World Championship concludes with the GP AMV of France on September 13/14.