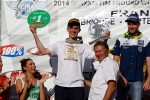 McCanney Crowned Junior World Champion
Pela RENET stamps his authority on day one at the Maxxis FIM Enduro World Championship GPAMV of France with victory. Great Britain's Daniel MCCANNEY is declared the Enduro Junior World Champion.
Delivering a home win in the Enduro 1 class, KTM's Christophe NAMBOTIN (F) gave the French crowd every reason to cheer. Intent on capping off his year in style, the newly crowned champion secured a comfortable victory despite a small crash on the final cross test. "It's been a brilliant day," remarked NAMBOTIN. "The crowds were fantastic – it's incredible to see so much support on the tests. It's amazing." With NAMBOTIN winning, the remainder of the podium was a French lockout. Sherco's Jeremy TARROUX held off his teammate Antony BOISSIERE by just eight seconds to claim the runner-up result. Fighting for second position, but also battling to stay inside the top three, BOISSIERE narrowly beat fellow Frenchman Marc BOURGEOIS (Yamaha) by one second to steal third. Pushing hard but just missing out on a potential podium result, Finland's Eero REMES (TM) placed fifth.
Despite having already locked up the Enduro 2 title at the GP of Italy, Husqvarna's Pela RENET showed no signs of slowing down. In blisteringly quick form on the enduro test, RENET pulled away from his rivals to win day one.  "'I've really enjoyed it today," said RENET. "I felt good in my riding and it was so much fun racing in front of the spectators. In every corner on every test and even in the forests there were people cheering you on. I loved it." Fastest in Friday's Super Test, Italy's Alex SALVINI (Honda) soon had to play second best to RENET on day one and ended his day as runner-up. Carding a career best result in the EWC with third, Frenchman Romain DUMONTIER (Yamaha) easily became one of the standout performers of the day. Missing out on his chance to reach the podium, Spain's Oriol MENA (Beta) finished just three seconds behind DUMONTIER in fourth. Spain's Lorenzo SANTOLINO (Sherco) completed the top five.
Returning to competitive action following his foot injury at the GP of Italy, Australia's Matt PHILLIPS (KTM) was determined to remain fixed at the head of the Enduro 3 point's standings. Fighting hard for the victory all day, PHILLIPS emerged from the final test as the victor. "I knew I needed to win today but I wasn't sure how my foot would be," admitted PHILLIPS. "It hurts when I ride but I can deal with it. Winning today has taken the pressure off a bit for tomorrow. Hopefully then I can become world champion." Second in the point's race, Spain's Ivan CERVANTES gave everything he had to better his teammate. But with PHILLIPS refusing to yield, CERVANTES was forced to settle for second. In what is his final EWC race, France's Fabien PLANET (Sherco) made it one to remember by placing third. Falling just one second short of third, Estonia's Aigar LEOK (TM) chased PLANET home for fourth while Finland's Matti SEISTOLA (Sherco) took fifth.
The was plenty of reasons to celebrate in the Beta camp with Baono Beta's Danny MCCANNEYclinching the Junior title today in Brioude. Needing to place in front of his closest challenger Giacomo REDONDI (I-Beta), the young Brit did exactly that to win the championship. Added to his 2013 SuperEnduro Junior World championship, MCCANNEY is the only junior rider to have now won in both disciplines. "It's massive for me to win the title," told a delighted MCCANNEY. "It's been a couple of years in the making but I'm made up to have finally done it. This year has been awesome. My Beta, the team, just everyone involved that's helped me get to where I am – I can't thank them enough." Ensuring a memorable end to an incredible season of racing, the GP AMV of France, attracted enduro fans in their droves as thousands flocked to the special tests to watch the world's best in action. Recording his first victory of the season, Loic LARRIEU (F-Husqvarna) led home the Enduro Junior category on day one in France. In the race for the title, it was MCCANNEY's second position that wrapped up championship with one day to spare. Unable to answer the pace of MCCANNEY, Italy's Giacomo REDONDI (Beta) was forced to settle for third. Italy's Alessandro BATTIG (Honda) and Sweden's Oliver NELSON (KTM) completed the top five. Competing in his first EWC event of the year, Great Britain's Brad FREEMAN (KTM) was the biggest surprise of the 125 Youth Cup. Beating Chile's Benjamin HERRERA (TM) by 13 seconds, FREEMAN claimed an incredible victory. Sweden's Jesper BORJERSSON (Husqvarna) made his way onto the podium with third. In the battle for championship honours, Sweden's Albin ELOWSON (Husqvarna) kept his hopes alive by beating main rival Italy's Davide SORECA (Yamaha) to take fourth.
Picking up her sixth victory of the series, Spain's Laia SANZ (Honda) moved one step closer to taking her third world title in the Women's class. Unable to match Sanz' pace, Britain's Jane DANIELS (Husqvarna) ended her day as runner-up with Australia's Jessica GARDINER (Sherco)placing third.