Bron.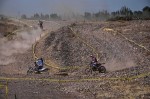 Training sessions for the Six Days Argentina have started and some riders took advantage of it to get on their bikes in Cuyo's lands for the first time. The paddock will open the doors to spectators.
We are only five days away to start the action in San Juan for the 89th edition of the International Six Days of Enduro. However, teams have started today with training sessions in the circuit specially made behind the Bicentennial Stadium, which will take place until next Saturday.
From early in the morning, competitors dressed up and headed to the circuit were they tested their vehicles for the first time in San Juan. Practice sessions were extended to the afternoon and great part of the participants started their sessions.
Canadians and Australians were the first ones on the circuit and both teams were satisfied with it.
The test start with a gravel and mud section with lots of turns and then enters a sector with small stones in a straight line that allows to speed up. After that, bikers can find a tough section among rocks with ups and downs so as to get to the final section on gravel with some climbings.