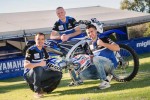 Yamaha is back on the EWC!
Tuesday, 13 January 2015
With 2015 season fast approaching, all the teams have almost completed their transfers. Let's take a look at who's racing where in the EWC this year.
Yamaha return
The biggest news for 2015 is the comeback of Yamaha in the Maxxis FIM Enduro World Championship. The Italian Yamaha Miglio team – in partnership with Yamaha Europe – will return to the EWC after participating in the last Grand Prix Acerbis of Italy in Lumezzane. Massimo MIGLIORATI, the team manager, has decided to hire two riders in Enduro 1 and has already made a bold statement by enlisting Cristobal GUERRERO (E). The Spaniard is joined by rising Italian talent Gianluca MARTINI (I). Both will ride the all-new Yamaha WR250F.
KTM Remain Firm
The KTM Farioli team have already set out their stall for the New Year. But unlike in 2014, there will be no change of category for their riders, which remains unchanged aside from the departure of Guerrero. Indeed, Antoine MEO (F) will stay in Enduro 2 with the desire to redeem himself after his season ending 2014 injury. Meo will be the only rider of the team competing in this category. Christophe NAMBOTIN (F) will defend his E1 title. Finally – after much hesitation – Matthew PHILLIPS (AUS) will fight for a second title in the Enduro 3 class and will be joined again by the four-time World Champion Ivan CERVANTES (E) – always on the lookout for a new title!
On the side of the support team, Fabio FARIOLI should keep Victor GUERRERO (E) and Oscar BALLETTI (I), Nicolo MORI (I) Rannar UUSNA (EST) and Kirian MIRABET (E). A young Italian named Mirco SPANDRE (I) is also expected to join the team. Jeremy JOLY (F) will again be under the KTM support tent with the help of KTM France…
Husqvarna Shake Up!
The Bel-Ray Husqvarna Factory Racing Team of Thomas GUSTAVSSON, will feature a revised four-rider line up for 2015. Thomas OLDRATI (I), Joakim LJUNGGREN (S) – who will focus on extreme racing with KTM Sweden – Loic LARRIEU (F), Albin ELOWSON (S) and Jane DANIELS (GB) leave the factory awning and Daniel MCCANNEY (GB) becomes the new face. The 2014 Junior World Champion – who joins his brother Jamie in Husqvarna – will race in Enduro 1 while Pierre-Alexandre RENET (F) will defend his title in E2. Mathias BELLINO (F) will fight for the podium in E3. For his part, Jamie MCCANNEY (GB) attempt to put the family name MCCANNEY on the top step of the Junior podium for the second year running.
On the supported team, Thomas OLDRATI will be still under the Husqvarna Racing awning through Husqvarna Italy and will compete in E3 while Jane DANIELS (GB) – assisted by Husqvarna UK – will try to challenge Laia SANZ in the Women's class. We should also see again Jesper BORJESSON (S), Albin ELOWSON (S), Jaume BETRIU (E) and Josep GARCIA (E) represent Husqvarna.
Honda – the status quo
In his second season as the Red Moto team, Franco MAYR has decided to play stability. Indeed, the team manager will again field 2013 E2 champion Alex SALVINI (I) to fight for the E2 title. Alessandro BATTIG (I) could well become one of the favourites for the upcoming Junior category!
Beta
Last year, Fabrizio DINI enlisted the three riders he was looking for several seasons. So the manager of the Italian team has decided to stand firm for 2015. Luis CORREIA (P) will compete in E3, double World Champion Johnny AUBERT (F) will battle for glory in E2 and the 2013 and 2014 Vice Junior World Champion Giacomo REDONDI (I) will seek to finally win the title he's lusted after for two years.
Beta Boano strengthens
The Beta Boano team managed by Jarno BOANO have been busy during the off-season. After losing their Junior World Champion Danny MCCANNEY, they managed to sign Spain's Oriol MENA to compete in E2. Deny PHILIPPAERTS (I) will continue in Enduro 3 while the winner of the FIM Youth Cup 125cc Davide SORECA (I) will move up to the Junior ranks and bid for his second world crown.
Gas Gas expand
During the offseason, the Spanish team managed by Sergi DURAN made some good decisions. First, they kept Antoine BASSET (F) to ride in E3, Diogo VENTURA (P) in Junior and Jonathan MANZI (I) for E1. But along with that, they also recruited Jonathan BARRAGAN (E) and Eloi SALSENCH (E). The young SALSENCH should team up with Basset in E3, just like BARRAGAN, who after many tests has decided to ride the 300 two-stroke.
Sherco still new things coming…
Team Sherco CH Racing team of Fabrizio AZZALIN continues the EWC adventure and will rely on Matti SEISTOLA (SF) – more motivated than ever – to deliver success in Enduro 3 with Jessica GARDINER (AUS) in the Women's class. To support them, "AZZA" has signed Rudy MORONI (I), who will compete in E1. Lorenzo SANTOLINO (E) is rumoured to move to the official Sherco team managed by Jordan CURVALLE.
In the official Sherco team, with the International retirement of Fabien PLANET (F), it may well be that Jeremy TARROUX (F) substitutes him in Enduro 3. He has already done some tests during the month of December.
The Moto Pulsion team, who decided to part ways with Julien GAUTHIER (F), will still rely on Anthony BOISSIERE (F) in E1. The Frenchman must first recover from his injury occurred to a vertebra only a few weeks ago. New to Sherco, Frenchman Loic LARRIEU moves up to Enduro 2.
TM advance
In TM, everything is already set for 2015. Luca CHERUBINI kept his two main riders Eero REMES (SF) in E1 and Aigar LEOK (EST) but has acquired the rapid Italian Manuel MONNI (I), who will ride in Enduro 3. Aigar LEOK has yet to decide his category. Will he continue with his beloved two-stroke in E3 or will he move to Enduro 2 – the same class where he had made his debut in the EWC?
EEAT
Goodbye to Maëlig BRON-FONTANNAZ (F) and Kevin ROHMER (F). The more experienced riders are now Jeremy MIROIR (F) and Anthony GESLIN (F). The son of Jean-Luc MIROIR will race in Juniors and will be the biggest French hope of the category. Aside from that, Frederic WEILL has yet to say if the two departures will be replaced.
All is calm at Marquis MotoRace
The team managed with passion by Emilio COMOTTI (I) remains quiet on the transfer market. We already know that Mirko GRITTI (I) continues again in Enduro 2 and is highly motivated, like the young guns Guido CONFORTI (I) and Nicolas PELLGRINELLI (I). But there is a bit of a blur about the future of Simone ALBERGONI (I). Whether with Marquis or not we know he will race in E1.
Rigo Racing
The Italian team equipped with Suzuki and managed by Marco RIGO should have the same appearance as last year with only Maurizio MICHELUZ (I) in Enduro 1.
TM France
Having participated in the Grand Prix of Spain and France in 2014, the TM France team will be a little more present next season. On the program they plan four Grand Prix visits (Portugal, Italy, Belgium and France). And for that Fred DI GIAMBATTISTA has signed Kevin ROHMER (F) in E3 to accompany Romain BOUCARDEY (F), who will rub shoulders with the best in the E2 category, and the 2014 French Youth Cup 125cc Champion Quentin DELHAYE DE MAULE…
Sherco Academy
In the Sherco Academy team of Didier VALADE there is also some movement. Indeed, in addition to Theo BAZERQUE (F) and Kevin PANIS (F), he has signed the former EEAT rider Maëlig BRON-FONTANNAZ (F) for the next season. But he loses the double Women's champion of France Geraldine FOURNEL (F), who has decided to focus on trials on 2015.
Privateer Focus
On the French side of those are not under "Official Team Contract", Romain DUMONTIER continues his adventure with his family structure and even seeks to grow by welcoming young Youth Cup riders. For Marc BOURGEOIS, it is rumoured that he will participate in the entire championship this season – still in his private Yamaha team. "Dudu" should contest Enduro 2 while BOURGEOIS will compete as usual in E1.
Cyril ESQUIROL
Yes, Cyril ESQUIROL is back on the international stage of the Enduro. But he is not back as a rider but instead as a team manager. The four-time winner of the Gilles Lalay Classic will take care of the young Luca GARELLO (F) in the FIM Youth Cup 125cc category.
Greg ARANDA
The newcomer of 2015 will be Greg ARANDA. Sampling EWC action during the 2014 season ending Grand Prix AMV of France where he made encouraging results (7/4) in Enduro 2, Aranda will return for more. It is rumoured that the former MXGP rider is talking with Sherco and Beta though he may also continue with his Yamaha team. The next few weeks should be decisive.