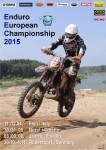 It is only a few weeks to go before the start of the new season of the European Enduro Championship: from Italy to Croatia and from Finland to Germany the way leads all over the European Continent.
The start will be in in April in Rieti/Italy – just 100 km North-East from the capital Rome.
Then the European Championship will break new ground and will go to Croatia in May: in Buzet,  which is located 50 km West from Rijeka and 50 km South from Triest (Italy).
In August the European Championship will take place in the famous Jämsä. This Finnish city, about 230 km North from the capital Helsinki, is well known for its many international events og the past.
The final round will visit Germany: Rüdersdorf, which is right in touch in the East of capital Berlin. Starting with the prologue in the darkness of the evening in the end of October, the last day will happen at the first of November, to crown champions and teams.
2015 Calendar
11/12 April Rieti – Italy  – www.endurorieti.it
30/31 May Buzet – Croatia  – http://emkbuzet.hr/novo
8/9 August Jämsä – Finland – www.j-smk.net/eec2015
30 October/1 November – Rüdersdorf – Germany – www.novemberpokal.de/enduro-novemberpokal
All relevant information on the website www.european-enduro-championship.com