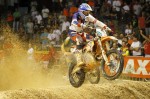 KTM´s Cody WEBB claims his debut Maxxis FIM SuperEnduro World Championship win at the penultimate round of the 2015 series in Belo Horizonte, Brazil In a night of non-stop action it was USA´s Cody Webb who finally put an end to Taddy BLAZUSIAK´s winning ways by claiming the top step of the podium from David KNIGHT (GB-KTM) and BLAZUSIAK in third. `After getting so close numerous times for the overall victory it feels great to have finally got my first win in SuperEnduro,` told WEBB. `Coming into the final race I was tied on points with Walker for the overall but then we crashed in the first corner. I got going again but crashed a second time. Somehow I managed to claw my way back to the third and it was enough for the overall.`
Entering the fifth round of the series it was BLAZUSIAK who had been in dominant form by topping the podium in Poland, Germany, Finland and Mexico. But in Brazil his luck finally ran out. Following on from his strong showing last weekend in Mexico, WEBB was hungry to win. Second to Jonny WALKER (GB-KTM) in the SuperPole, the KTM rider quickly fought his way to the front of the pack in race one. Riding fast and smooth on the tight and technical track, WEBB hung on to win from WALKER,KNIGHT and BLAZUSIAK.
With the start order reversed for race two it was Spain´s Dani GIBERT (Gas Gas) who emerged with the race lead. WALKER was close behind and piled on the pressure before finding a way past the Spaniard to take the lead. Avoiding trouble, WALKER rode home for the win. WEBB pushed on in the closing stages of the race to take second while BLAZUSIAK again took third.
Entering the final race of the night it was WALKER who was pushing for his first SuperEnduro win withWEBB close behind. But with neither rider giving way in the first corner they both hit the deck hard.WALKER was quick to remount but then caught a trackside banner in his rear wheel. Needing outside assistance he was forced out of the race.  Meanwhile up front it was KNIGHT in control. Leading the entire race, he survived a final lap crash to win from BLAZUSIAK. Clawing his way back from that first corner crash, WEBB placed third and secured his debut SuperEnduro victory. With his final race win, Knight claimed the runner-up result while BLAZUSIAK completed the top three.
In the Juniors, the battle for overall honours was played out once again by Andreas LINUSSON (SWE-KTM) and USA´s Ty TREMAINE (KTM). Sharing a win apiece in the first two races, it wasLINUSSON who won race three to bag the overall victory.
The 2015 Maxxis FIM SuperEnduro World Championship concludes with the final round of the series in Cahors, France, Saturday, March 14th.