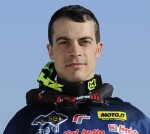 The FIM Enduro Commission is delighted to announce that Italian born Maurizio Micheluz has recently been appointed as the new FIM Course Inspector, taking over the role from Giovanni Sala who has retired after many years of service. Despite his relatively young age, the thirty-two-year-old has a long history within the discipline of Enduro both as a rider competing at the highest level and as an event organiser. He therefore brings considerable expertise and experience to the job.
Micheluz is a rider of note in his own right, having first competed in motocross events during his early years before switching to Enduro in 2002. Since then he has won national Italian and European championships at Junior level, been a part of Italy's winning FIM International Six Days Enduro (ISDE) squads (2005 Junior Trophy Team and 2007 World Trophy Team), and twice been victorious in the Enduro European Championship – 2013 E3 Champion and 2013 E1 / Overall Champion.
His best seasons in the FIM Enduro World Championship were 2006 and 2008 when he twice finished fifth in the E1 class. In 2015, Maurizio will compete in the Italian and European Enduro Championship supported by the Police Sport Team (Gruppo Sportivo Fiamme Oro) and Husqvarna.
As the FIM Course Inspector, Maurizio, who speaks French, English, Spanish and Italian, will be responsible for the safe and correct marking of the overall course, including all tests, time controls and other check points, and will ensure that these are delivered fully in accordance with FIM Sporting Codes. Moreover, Maurizio will be actively involved in the different FIM Enduro Training Camps.
He will work closely with the FIM Enduro Commission, other FIM Officials, the promoter of the FIM Enduro World Championship (EWC), the riders and teams plus the local organisers to ensure that all the key course conditions and standards are met and are managed in the correct way in order to deliver the best events in the safest circumstances possible.
Speaking about this appointment, Jean-Guillaume Meiller, FIM Enduro Commission Director said: "The FIM Enduro Commission would like to warmly thank Gio Sala for all his hard work over a number of years. He has shared a lot of energy and diplomacy and, thanks to his experience, he did his absolute best for both the organisers and riders. We now send our best wishes to Maurizio and encourage him to continue in the same path, we know how difficult this role is and how essential it is to our discipline."
"We are also sure that Maurizio will give his time and experience to ensure that Enduro continues to keep its roots whilst also helping our sport to evolve. His first year will be a tough one, but we are convinced that Maurizio will demonstrate his skills and human qualities and that he will find the necessary compromises to make safe decisions and good choices. We wish him success and hope that this new working relationship will last for a long time."
Maurizio Micheluz expressed his satisfaction at his recent appointment: "I'm very happy to be appointed as FIM Course Inspector for the FIM Enduro World Championship and ISDE. I accepted this opportunity because I love Enduro and have been inside motorcycling since a young age. Therefore this new position will be an honour for me. I'm only 32 years old, but already I have achieved much in my own sporting career, so I felt it was the prefect moment for a new and important challenge."
"After ten years of riding in the FIM Enduro World Championship I have learned so much and fully understand the philosophy of real Enduro. I know many of the riders and other people in the paddock well already, and with me being able to speak four languages I feel I can communicate well too. I have organised a national Enduro competition in my home town, so I am fully aware of all the challenges that an organiser can face in bringing this type of competition to life in a safe and successful way. I cannot replace Gio Sala, and would personally like to add my thanks for all he has done for our sport, but I will do my best to continue his good work. I am ready and excited to start this challenge and to work with all the great people in the sport of Enduro."