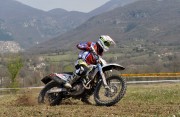 The overall champion from last year, the Italian Maurizio Micheluz, won the first day of the season-opener in Rieti (Italy) in front of the French Benoit Fortunato. This shows that the small motors have been the fastest in the tests, because both riders used the 250cc-motorbikes.
Third in the overall ranking was British rider Tom Sagar, two places in front of the German Marco Neubert – both riding in the E2-class and so Sagar won the class in the last lap.
Not this strong has been the class with the big bikes, the E3-class: winner of the day, Swedish rider Martin Sundin lost more than one and a half minute to Micheluz and was only 23rd in the overall, in front of Finnish rider Rony Nikander.
Werner Müller, the eight-times-champion, seems to be unbeatable: after the first round nearly 5 seconds back, he pushed into the lead and won with 10 seconds.
In the women-class, Sanna Karkkainen from Finland won the day in front of the defending champion Audrey Rossat from France.
All the juniors has been quite fast, the winners are in the top of the overall: Anthony Geslin from France took the 4th place in the overall and the victory in the Juniors-E1-class.
Jeremy Carpentier won the Junior-E2/E3-class and in the same time the French rider became 7th in the overall.
The Italian Mirko Spandre won the youngest class, the Juniors under 20 years with the small 125-cc-bikes.
Three laps with 63 km each, and three different special-tests had to been done by 196 riders. Snow-capped peaks lined the route in the sunshine, but this does not made it really easier for the riders in the countless stones everywere.
The second day will also go over the total distance.
Further informations and pictures and a link to the live-timing you can find on website www.FIM-Enduro-european-championship.com – including the live-timing.