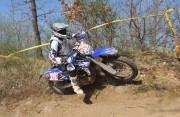 On the second day of riding Enduro Championship in Italy / Rieti the defending champion Maurizio Micheluz was unstoppable again: The newly crowned Husqvarna rider again won the overall title of all riders, as thus the E1 class.
Second in the overall standings, Tom Sagar: "I have had to switch my style. Yesterday I had problems while riding in the sand at home and now on the local stones. This day it was much better, "rejoiced the Briton.
In the intermediate state of the championship, the Frenchman Benoit Fortunato is tied for second place.
Almost the same picture in the E1 class: Also there is Fortunato second behind the Italian. In the E2 class, the result repeated from the previous day: Sagar wins before the German Marco Neubert and Diego Nicoletti, and so is the state of the Championship after the first two of a total of eight special days.
The Swede Martin Sundin repeated his victory in E3 very impressiv: "I had more than 20 seconds ahead after the first round. Since I have long wondered whether I should continue to push and the concentration stand by, or if I can even slow down and try to go save. I then decided to go for something in between, " the Husqvarna rider explained afterwards. So of course he leads the championship after his closest rival, the Finn Rony Nikander,stopped racing with a knee injury in the morning.
In the women-class again a victory from the Finnish Sanna Karkkainen. Ex-motocross-pilot Nina Klink from the Netherlands going on a second place in her first international enduro competition. So she is equal in points with the reigning European champion Audrey Rossat in second place of the Championship. In the juniors, however, was mixed kräfig again:
In the E1 class, the Czech Patrik Markvart took the victory and moved to within four points closer to the leader Anthony Geslin, who had lost a lot of time after a crash in one endurotest.
For the youngest, to 20 years in the 125cc machine, the Briton Lee Sealy got the victory he had missed on the first day with a crash. He is situated in the championship just two points behind Saturday's winner Mirko Spandre from Italy.
In the Junior E2 / 3 Class Jeremy Carpentier was his previous day's victory not repeat: "I did not feel in the cross examination well, at least it was in the enduro test." This time, second on the day, the Honda rider finished behind Sweden Tommy Sjostrom, but at least he is still in the lead of the championship.  Further informations and pictures and a link to the live-timing you can find on our website www.FIM-Enduro-european-championship.com – including the actual Live-Timing!
Next round of the championship is 30th/31st of May in Buzet / Croatia