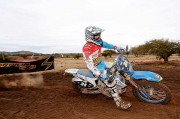 Day two of the FIM Maxxis Enduro World Championship GP of Chile marked a debut Enduro 3 class win for Sherco's Matti Seistola while Antoine Meo finished as the outright fastest. Heavy overnight rain ensured a complete contrast in conditions for competitors at the GP of Chile in Talca. Forced to abandon the extreme test and shorten the enduro test for the first two laps, Chile dished out a tough day for all.
Thoughts of a Christophe NAMBOTIN (F-KTM) double win in the Enduro 1 class where quickly squashed when Eero REMES (FIN-TM) dominated the class from start to finish. Taking control of the lead immediately, Remes kept his wheels clean to record a comfortable win. "Day one was terrible for me," explained Remes. "I just rode badly. So for day two I wanted to do better. I could see that the conditions weren't so bad on the first test so I pushed hard. It worked and Nambotin made a mistake. I kept pushing hard all day and was riding well. It was a great day for me."
For Nambotin, his day got off to a bad start when he lost over 31 seconds on the first cross test. Under pressure to recover, the KTM rider battled his way back to second but was unable to gain any advantage on Remes. Proving he's going to be a serious factor in this year's E1 championship, 2014 Enduro Junior champion Daniel MCCANNEY (GB-Husqvarna) claimed his second podium result of the weekend with third. Despite a strong run during the morning, Marc BOURGEOIS (F-Yamaha) was knocked off the podium and placed fourth. Chasing the leaders hard throughout the day, Cristobal GUERRERO (S-Yamaha)finished four seconds behind Bourgeois in fifth.
On a mission in the Enduro 2 class, Antoine MEO (F-KTM) was simply unstoppable in the slippery conditions. Building a massive 18-second lead at the end of the opening cross test, Meo continued to extend his advantage throughout the day and secure an almost 80-second margin of victory. "I was surprised to be as fast as I was on the first test," commented Meo. "Normally Renet is faster than me when it's wet and slippery. But I got a big advantage immediately and felt better and better on each test after that. It was a great day."
Unable to offer a challenge to Meo, the rest of the E2 class fought for the remainder of the podium positions. Feeling the effects of his crash on day one, Pela RENET (F-Husqvarna) worked his way from fifth to salvage second. Placing 14 seconds behind the Husqvarna rider, Alex SALVINI (I-Honda) completed the podium. Fighting right until the very end, Beta's Johnny AUBERT (F) just missed out on his chance of a top three result and ended his day in fourth. Jaume BETRIU (S-Husqvarna) held off a last lap charge from Sherco's Loic LARRIEU (F) to complete the top five.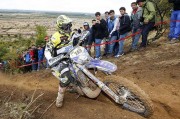 Securing his debut win in the Enduro 3 class, Sherco's Matti SEISTOLA (FIN) topped the podium on day two. Fast and consistent for the entire day, Seistola finally ended his three-year dry stretch in the EWC. "It's been a great day today. I felt good on day one and knew that I would be able to fight for the win so I pushed hard. I just felt really good with my bike. Once I started well and felt confident I just kept doing the same thing. I started to get a little nervous towards the end of the day, but finally to win is a great way to end the first GP."
Delivering a much-improved performance over day one, TM's Aigar LEOK (EST) found the wet conditions much more to his liking and placed as runner-up to Seistola. E3 newcomer Jonathan BARRAGAN (S-Gas Gas) claimed a career first EWC podium with third. After a disastrous start to his morning, day one winner Mathias BELLINO (F-Husqvarna) climbed his way back up to fourth while Jeremy TARROUX (F-Sherco) was fifth. Defending championMatt PHILLIPS (AUS-KTM) had a tough day at the office and placed eighth.
The Enduro Junior class saw a new winner emerge with Italian Alessandro BATTIG (I-Honda) taking victory. Holding off both Giacomo REDONDI (I-Beta) and Jamie MCCANNEY (GB-Husqvarna),Battig carded his debut EWC win. With Redondi and McCanney completing the podium, Luis OLIVEIRA (PRT-Yamaha) and Benjamin HERRERA (CHL-TM) rounded out the top five.
Day two marked another commanding victory for Josep GARCIA (S-Husqvarna) in the Youth Cup. He was joined on the podium by Diego HERRERA (CHL-TM) and Ruy BARBOSA (CHL-Husqvarna).
The FIM Maxxis Enduro World Championship continues with round two in Jerez, Spain on May 9/10.