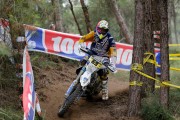 Eero Remes, Pela Renet and Mathias Bellino round out perfect weekends in Serres, all claiming double class wins at the Maxxis FIM Enduro World Championship's GP of Greece. A second long day or racing in Serres ended with Eero Remes winning in Enduro 1, closing to within just four points on championship leader Christophe Nambotin. Husqvarna's Pela Renet claimed his first double win of the season ahead of Antoine Meo with third going to Alex Salvini. Things were clearer second time out in Enduro 3, where Mathias Bellino got the lead early in the day and rode on to victory. Conditions were dry and even harder on day two, with mud holes and countless river crossings in the enduro test taking their toll on many riders.
Finland's Eero Remes (TM) was hard to catch on day two, securing a fourth day win in 2015 to level Christophe Nambotin's (F-KTM) number of victories this season. Riding with pain on his injured knee, Christophe Nambotin had to settle for second in Enduro 1, and now leads Remes by only four points. The battle for the Enduro 1 title is shaping up to offer some real drama during the upcoming rounds. Danny McCanney (GB-Husqvarna) returned to form on day two to end up third on the podium. Spain's Lorenzo Santolino (Sherco) ended the GP with another fourth place finish with his fellow countryman  Cristobal Guerrero (Yamaha) coming from behind to end fifth in Enduro 1. "It was another good day. No mistakes and another win," was Remes' overview of day two."
Pela Renet's (F-Husqvarna) goal of reducing the championship lead held by Antoine Meo (F-KTM) was achieved as the defending E2 champion secured victory on day two. With his second consecutive day win Renet is now 13 points behind in the championship standings. Meo made a mistake in the Enduro Test and then had to struggle a lot to regain ground. He finally ended second almost half a minute in front of third-placed Alex Salvini (ITA-Honda). Salvini only has two weeks to work hard and search for his second win of the season at his home GP of Italy. Sherco's Loic Larrieu (F) had another good fight with Jaume Betriu (S-Husqvarna) for fourth place with the Frenchman ending up winning that battle and Betriu finishing fifth again.
In the Enduro 3 class it was Husqvarna's Mathias Bellino who took the top step of the podium. Knowing that he would have to start the day in attack mode if he was to finish ahead of Matt Phillips, Bellino took to the front and steadily edged his way ahead as the day progressed. Second place went to Estonian TM rider Aigar Leok, just as it did on day one. Impressively fast throughout the day, Leokfinished between Bellino and Phillips, with Phillips struggling to perform at his best after a severely interrupted night's sleep due to food poisoning. "I gave today everything during the first lap, I had to because I knew how fast Phillips would be," said Bellino. "Starting the second half of the series with a win is great… now I have to stay strong during the coming GPs."
The fastest rider in the Enduro Junior class was Beta mounted Steve Holcombe. But the day two win went to Jamie McCanney as the Manxman was able to take advantage of the fact that Holcombe ran into troubles in the enduro test, taking water into his bike and losing precious time. Fighting hard he closed to within eight seconds of McCanney at the finish. Rounding out the podium was Beta's Giacomo Redondi. "Hats off to Steve, he was the fastest rider today," commented Jamie. "I didn't feel great today but to get the win was important for my championship."
Dominating the 125cc Youth Cup Mikael Persson (Yamaha) produced a highly impressive performance to finish minutes ahead of his closest competitor – EWC first time podium finisher Jack Edmondson (KTM). Third went to Italian Mirko Spandre.
The 2015 Maxxis FIM Enduro World Championship continues in two weeks with the GP of Italy.