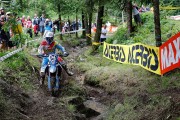 Renet Takes Control On Day One In Italy
Husqvarna's Pela RENET proved the rider to beat on the opening day of competition at round five of the Maxxis FIM Enduro World Championship in Rovetta, Italy. With the GP Acerbis of Italydelivering a fantastic mix of special tests, great weather and a massively enthusiastic crowd, the competitors of the EWC were treated to a memorable days action.
Clocking up his third win in as many races, Husqvarna's Pela RENET (F) claimed top honours in Enduro 2. Taking control of the lead on lap one, two mistakes saw him having to charge his way back in front. Despite closest rival Antoine MEO (F-KTM) winning the final two tests, RENET had enough in hand – seven seconds – to win the day. "It's been a close battle all day," told RENET. "I got into the lead at the end of lap one, I think, then lost it on lap two with some mistakes. But I pushed hard on the third lap to get back in front. It's been good to put another win on the board." Matching RENET pace for pace, MEO fought hard to keep in front but with RENET proving strong on the penultimate lap,MEO had to be content with the runner-up result. Looking for a win on home turf, Honda's Alex SALVINI wasn't able to offer the passionate crowd an Italian victory and instead took third. Continuing to place himself at the sharp end of the results, Spain's Jaume BETRIU (Husqvarna) ended his day in fourth with Sherco's Loic LARRIEU (Sherco) completing the top five.
Trailing Mathias BELLINO (F-Husqvarna) by just one hundredth of a second in Friday's super test, KTM's Matt PHILLIPS (AUS) got down to business on Saturday morning. Winning the first four special tests he opened up an 18-second advantage. Losing 10 seconds in the second extreme test,PHILLIPS quickly corrected the situation and pulled clear to win the day by over 43 seconds. "It was nearly an almost perfect day," explained PHILLIPS. "I won the first four tests this morning and that gave me a decent lead until I dropped it in the extreme test. I got a charge on again and was able to build it back up. I'm pretty happy with that." Faced with a highly motivated PHILLIPS, BELLINOwasn't able to match the pace of his close competitor and had to settle for second. Back on the podium again, TM's Aigar LEOK (EST) enjoyed a strong ride for third.  Returning to action following his absence at the GP of Greece, France's Antoine BASSET (KTM) placed fourth. Spurred on by his home crowd, Italy's Oscar BALLETTI (KTM) completed the top five.
Enduro 1 was the most competitive class of the day with the top four riders separated by just 21 seconds. Chasing his third win in a row, TM's Eero REMES (FIN) faced a big fight with Christophe NAMBOTIN (F-KTM) and early pace setter Lorenzo SANTOLINO (S-Sherco). Making almost no mistakes on the final lap, REMES claimed the win. "I'm please to come away with my third win in a row," commented REMES. "The fight for the win was very close and the lead changed hands a few times. I just tried to do my best on the final lap and it was enough. It's been a good day." Making life difficult for himself, NAMBOTIN made a costly error on the opening extreme test. Forced to play catch up he worked his way back to second, but didn't have enough in hand to beat REMES. In the battle for the final step of the podium, Husqvarna's Daniel MCCANNEY (GB) delivered a strong ride on the final lap to edge out SANTOLINO for third. With SANTOLINO dropping back to fourth, Yamaha's Marc BOURGEOIS (F) ended his day in fifth.
In the Enduro Juniors, Husqvarna's Jamie MCCANNEY (GB) turned in a near flawless performance to secure the top step of the podium. Fast but just not quite able to challenge his fellow countryman, Beta's Steve HOLCOMBE (GB) finished as runner-up. Off pace with the leading duo, Italy's Giacomo REDONDI (Beta) completed the top three.  Italy's Matteo BRESOLIN (KTM) and Portugal's Luis OLIVEIRA (Yamaha) were fourth and fifth respectively.
Sweden's Mikael PERSSON (Yamaha) was the rider to beat in the Youth Cup class and recorded a commanding win. KTM's Mirko SPANDRE (I) placed second with Michele MARCHELLI (I-Husqvarna) third. Jack EDMONDSON (GB-KTM) and Luca GARELLO (F-Yamaha) rounded out the top five.