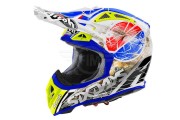 The FIM is pleased to announce that the Italian helmet manufacturer Airoh will be a Main Partner of the FIM International Six Days' Enduro (ISDE) commencing with this year's event in Kosice, Slovakia from 7 to 12 September 2015, which will mark the start of a three year agreement. The forthcoming event will be the 90th edition of this historic competition, and the FIM is delighted to welcome a brand that has a rich racing heritage all of its own. Airoh has been associated with fifty-nine FIM World titles over the last eighteen years.
To mark this distinct occasion and to reinforce its previous successes at the ISDE, Airoh have introduced a special design as part of their 2016 model range AVIATOR 2.2 that pays tribute to this year's ISDE host nation Slovakia. Each of the limited edition helmets will carry an individually numbered plate to confirm the unique nature of this product for customers who are fortunate enough to own what is sure to become a sought after collector's item.
An active Main Partner strongly involved in the events, Airoh will provide all the riders, professional and amateur, equipped with an Airoh Helmet, with high level assistance from its Racing Assistance Truck. Airoh will also be present with a booth in the village for the fans.
Speaking about their new three-year agreement with the FIM International Six Days' Enduro, Mr. Locatelli, President of Airoh said: "Our Aviator 2.2 Six Days is a unique helmet to match the unique excitement of the race itself. Enduro provides us with great passion and therefore our company is very proud to have this opportunity to be a part of this project. Airoh is delighted to be part of the spirit of this sport and this great event."
Commenting on this new partnership Ignacio Verneda FIM CEO said: "The FIM is pleased to be able to confirm this relationship between Airoh and the FIM International Six Days' Enduro. Airoh is a brand that is very well established inside off-road sport and one that is associated at the highest level through its support of many FIM World Champions over a number of years. The creation of a special helmet to celebrate the 90th edition of the ISDE in Slovakia later this year will provide customers with a unique opportunity and will cement this three year relationship between Airoh and the FIM."
Airoh – Locatelli S.p.A. is a company and brand that has become well established in two-wheel racing and especially the off-road community over the last almost two decades, and this was further reinforced when it achieved nine FIM World titles in off-road disciplines just last season. Whilst the company was founded in 1986, it was not until 1997 that it sprang to prominence when it launched its own products after having previously produced helmets for other brands.
Confirming the company's growth and success over more recent years, today Airoh helmets are worn by riders in more than sixty countries throughout Europe and America. Through its collaboration with some of the best athletes in motorcycle sport and using its own laboratory facility, plus the expertise and resources of its team of technicians, Airoh has a continuous development programme that strives to deliver the safest and highest quality helmets to its customers that match those worn by the champions they support and use as part of this process.
All the latest information and news regarding this year's ISDE can be found on the official website http://www.fim-isde2015.com