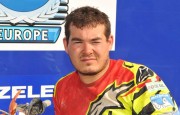 After more than two months summer break, now the Enduro Championship is coming to the far north: Jämsä in Finland is known as an international venue for off-road events for many years.
On the participants many stones and roots wait for the stage and a lot of sand in the specials – through the different conditions is a particular challenge.
Conveniently, the paddock is the only service point on the 52 km long round. This is driven three times in the form of an 8, so that both times the teams to supervise the paddock from its pilots.
Interesting is the continuation of the duel between the reigning Overall champion Maurizio Micheluz and Tom Sagar. The Italian has been injured a month ago (the shoulder dislocated) and sand is not one of the usual ground of Micheluz.
In total, more than 200 riders from 15 countries participate in this third round of the European Championship. Opening ceremony will be in competition center on Friday at 18.30. There will be parade of the riders, top racers interviews and pole dancing show.
Even Eero Remes, who is currently the leader in the World Championship, will also be in his home country at the start!
See the live-timing of the competion at: http://j-smk.live.enymind.fi/live/
Find more information, news, results directly at our homepage: http://european-enduro.com/