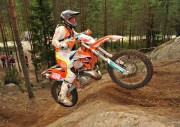 It was an extremely physically demanding first day at the third round of the Enduro Championship in Jämsä / Finland: in perfect weatherconditions, the over 50 km long circular course presented many rocks, roots and driveways: More than half of all riders did not arrive in the finish-line, gave up from exhaustion or timeout.
Under such difficult conditions clearly dominated the Finnish riders with guest starters Roni Nikander (KTM) and Marko Tarkkala (Beta). Only in third place in the overall standings, the British KTM-rider Tom Sagar was able to prevail against two other Finns behind him. That gave the British the lead in the European Championship, as the reining champion, Maurizio Micheluz, came only on the 18th place overall, third place in the E1 class. Micheluz is still suffering from the consequences of his injury: "I had dislocated my arm a month ago – and could not train since. In the special, I had continued to attack no strength," excused the Italian.
Sagar took over so the lead in the overall standings and built with the simultaneous class victory and his leadership in the E2 class.
In the E3 class the victory went to the overall winner Nikander again before Tarkkala and the German Mark Risse.
The veterans of the eight-time European Champion Werner Müller seems to be once again unstoppable: While the KTM rider struggled with the track and the strength and conditioning – but the other participants fared worse. At the end Müller had not only the fastest special stage times, but had only three penalty minutes collected on the stage, while his biggest competitor Zdenek Gottvald 13 had minutes late and the Finnish competitor Juha Puotsaari even 16 minutes! But these three drivers were the only three veterans, who crossed the finish line at the end.
In the womens-class only Finnish rider Sanna Karkkainen reached on their KTM in the goal scoring and conceding the only driver championship points, which puts her title within reach.
The Italian Junior Mirko Spandere won again the victory in the class of 125cc riders under 20 years and was also from the lokal Finn Antti Hänninen and Sweden Pontus Skog.
In the juniors of the E1 class of the Italian Nicolas Pellegrinelli won before the local hero Henry Olenius from Finland and Frenchman David Abgrall.
With today's winner Henrik Stigell and Mika Tamminen the Junior E2 / E3 class was firmly in Finnish hands. Only in third place came the French Mika Barnes a non-Scandinavian to vote.
Three rounds over 55 km each were to pass in the forests of Jämsä with each three special stages. find the live-timing for the second day here: http://j-smk.live.enymind.fi/live/ Further informations and pictures and a link to the live-timing you can find on our website www.FIM-Enduro-european-championship.com –