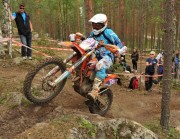 The second day of the Enduro Championship in Jämsä (Finland) brought a surprise with the overall victory of Tom Sagar: on the demanding track, the British rider has been in advantage after the third place in the overall of yesterday. "I had to do well in the enduro tests," Sagar said . "The cross track was too slippery for my 450".
At the end he won before Marko Tarkkala and Roni Nikander, who had preceeded him the first day. Thus the KTM rider now leads not only in the E2 class, but also in the overall ranking of all riders, because defending champion Maurizio Micheluz was not better than the day before: "I have to concentrate on the title in the class, where I could keep my advantage", said the Italian. In the E1-class now he has a to defend himself from Jonathan Rosse now, the Swiss rider who was able to ride up to the second place in the second day.
In the E3 class, ex-vice-champion Marko Tarkkala from Finland won in front of Roni Nikander, injured since the beginning of the season, but who will be present at the final race in Germany, too. Third place for the German Mark Risse, who does not get any points for the championship, because he changed the class after the first race. Swedish Martin Sundin still leads the class standings.
In the Women's class one more victory for the Finnish Sanna Karkkainen. The KTM-rider was able to win her first European Championship one race before the end. For the Finns it was European Enduro in Jämsä (Finland) - Day 2 Tom Sagar.
In the Veteran class Werner Müller from Austria conquered his sixth victory in sixth rounds – and won his ninth European title. He finished the race over one minute ahead Martin Gottvald from the Czech Republic.
In the Junior class the Italian Nicolas Pellegrinelli celebrated his fourth victory in a row, thus extending his leadership. In the special stage he won before his compatriot Matteo Rossi, who had retired on the first day due to technical problems. In the recent junior class, the under 20, local hero Joni Kaivolainen managed to gain the victory: "I really wanted to win on both days, but I crashed too many times yesterday" confessed the Finn. Second place for the Briton Lee Sealey, but Mirko Spandre remains the leader of the championship.
The two Finns Henric Stigell and Mika Tamminen were the fastest in the Junior E-2/3 category but the Frenchman Jeremy Carpentier did not lose his leadership in the championship. Further informations and pictures on website www.FIM-Enduro-european-championship.com –
The next round of the championship will from 30th of October to 1st of November in Rüdersdorf (Germany). About FIM Europe (www.fim-europe.com) –