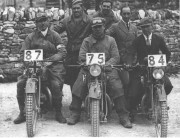 With this year's FIM International Six Days' Enduro (ISDE) – the 90th edition of this great event – to be held in Kosice, Slovakia from 7 to 12 September now less than a month away it seems the perfect moment to reflect on the long history of this hugely important FIM competition.

Here follows a brief summary of the origins and development of the ISDE as it is now known. The FIM International Six Days' Enduro (ISDE), formerly known as the International Six Days Trial (ISDT), is the oldest off road motorcycle event on the FIM Calendar.
The ISDT was first held in 1913 at Carlisle, England. It has occurred annually, apart from interruptions due to World War I and World War II, at various locations throughout the World.
The early events were a true test of machine, rider skill, and reliability. Held on the roads of that era, today most of the routes are truly off road. Originally titled the International Six Days Trial, in 1981 the FIM decided to update the name to International Six Days' Enduro, the name Enduro having been devised by the Americans and popularised by many motorcycle manufacturers also greater reflected the change in the event from a trial to more akin to a rally featuring skills more associated with cross country motocross.
The sport has been associated with many great motorcyclists before its 100th anniversary in 2013; this also includes women such as 1920s-30s star Marjorie Cottle. Up until 1973 the contest was always held in Europe. In 1973 it travelled for its first overseas jaunt, the United States. Since then it has been outside Europe more frequently: twice in Australia 1992 and 1998, once more in the USA 1994, Brazil 2003, New Zealand in 2006, Chile in 2007 and Mexico in 2010. The last ISDE was held from 3-8 November in San Juan, Argentina.
The event has attracted national teams from as many as 32 different countries in recent years. Over its long history the rules and conditions have changed to keep in step with the developments in the sport, but it remains a supreme test of rider and machine.
Over the six days and upwards of 1250 miles a rider must contend with strict rules about time allowances and restrictions on mechanical replacements, carrying out his or her own motorcycle repairs. The ISDE can attract entries of more than 500 riders, together with thousands of support crew and spectators. This has a major impact on tourist income for the venue in which it is based each year. For 2013, the 100th anniversary of the holding of the first ISDT, the FIM announced that there were a record number of pre-entry requests of 820 covering 35 nations from across the Globe with 600 entries being allowed to compete.
Usually referred to as the 'Olympics of Motorcycling' with trophies for best six-rider national, four-rider junior national, three-rider women's national, three-rider club national and three-rider manufacturing teams. Gold, silver and bronze medals are awarded on an individual level.
The medals are typically awarded based on percentage of finishers, or relative to the best individual performance in the event within their specific class. Individual gold medals go to participants who finish within 10% of their class' top competitor's total elapsed time, silver medals are awarded for those who finish within 25%, and bronze medals are awarded to any rider who finishes all six days within their time allowance.
All the latest information and news regarding this year's ISDE can be found on the official website http://www.fim-isde2015.com
(c) Text: www.FIM-LIVE.com
(c) Picture: FIM Archives